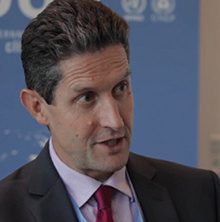 Guest essay by Eric Worrall
Climate scientist Myles Allen is worried the 12 year time limit until the end of the world has been taken out of context.
Why protesters should be wary of '12 years to climate breakdown' rhetoric
April 19, 2019 12.06am AEST

…

Today's teenagers are absolutely right to be up in arms about climate change, and right that they need powerful images to grab people's attention. Yet some of the slogans being bandied around are genuinely frightening: a colleague recently told me of her 11-year-old coming home in tears after being told that, because of climate change, human civilisation might not survive for her to have children.


My biggest concern is with the much-touted line that "the Intergovernmental Panel on Climate Change (IPCC) says we have 12 years" before triggering an irreversible slide into climate chaos. Slogan writers are vague on whether they mean climate chaos will happen after 12 years, or if we have 12 years to avert it. But both are misleading.

…

But an additional quarter of a degree of warming, more-or-less what has happened since the 1990s, is not going to feel like Armageddon to the vast majority of today's striking teenagers (the striving taxpayers of 2030). And what will they think then?

…

So please stop saying something globally bad is going to happen in 2030. Bad stuff is already happening and every half a degree of warming matters, but the IPCC does not draw a "planetary boundary" at 1.5°C beyond which lie climate dragons.

…

So here is a conversation young activists could have with their parents: first work out what the parents' CO₂ emissions were last year (there are various carbon calculators online – and the average is about seven tonnes of fossil CO₂ per person in Europe). Then multiply by £200 per tonne of CO₂, and suggest the parents pop that amount into a trust fund in case their kids have to clean up after them in the 2040s.

If the parents reply, "don't worry, dear, that's what we pay taxes for", youngsters should ask them who they voted for in the last election and whether spending their taxes on solving climate change featured prominently in that party's manifesto.

…

Read more: https://theconversation.com/why-protesters-should-be-wary-of-12-years-to-climate-breakdown-rhetoric-115489
I guess we should thank Myles Allen for providing such a simple solution. All parents have to do to calm the fears of climate obsessed children is work longer hours, so they can give their kids more money.