WUWT reader Susan Corwin writes:
Because it would work as CO2 became plentiful!
All the academic articles say: "and then agriculture happened".
The "accepted wisdom"/consensus is:
….here was no single factor, or combination of factors, that led people to take up farming in different parts of the world.
But It is simple: it occurred because it Started Working.. 13,000 years ago.
People are clever, resourceful, adaptive, looking out for the best for their kids.
If it doesn't work, it won't happen.
If it will work, someone will figure it out and their kids/tribe will be successful
The Greenland Ice Chart for 9000 to 21000 years before present shows why agriculture arose:
(as presented on WUWT by Andy May)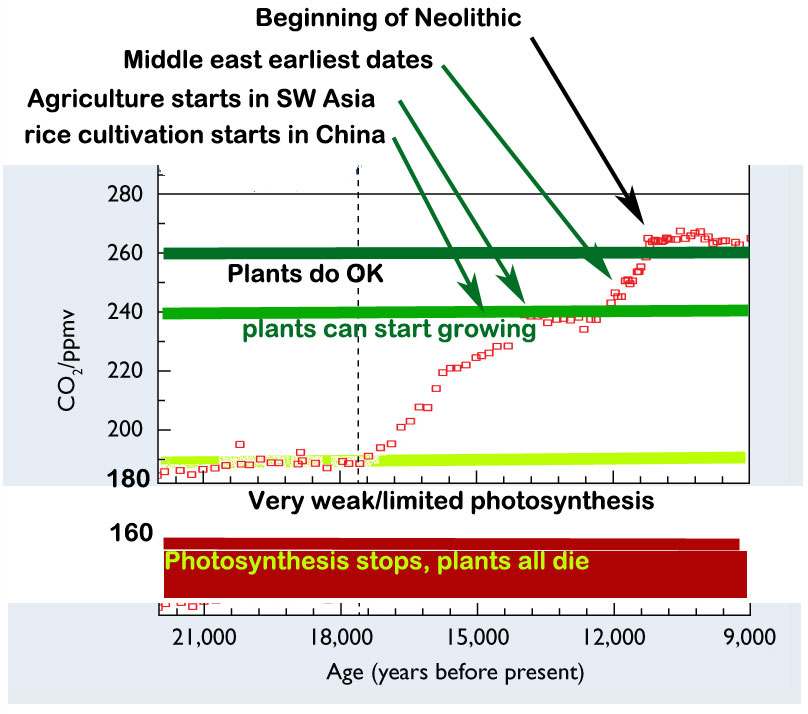 So, my conclusion is that over 4,000 years or 160 generations, things improved and they tried, and tried, and tried again until it worked: people are smart.
…and animals actually could be pastured.
Starting 14,000 yag, the sparse, scraggly growth started getting thicker and slightly more abundant.  It wasn't very good, but is was much better than 16000 yag.
=> and clever people could keep various animals alive in a herding lifestyle.
Source: http://www.mochaexpress.com/Commentary/Elucidate/AgricultureBecamePossible/