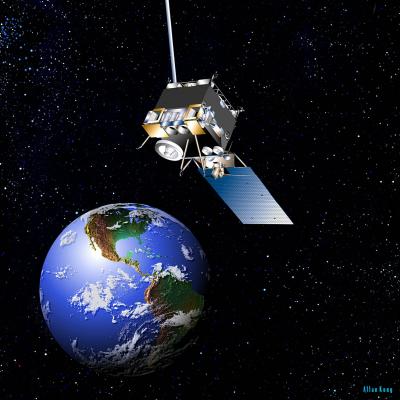 The FCC (like many Federal agencies) has gone looking for available frequencies and money as part of this:
Connecting America: The National Broadband Plan, Recommendation 5.8, p.86 (FCC, 2010). The National Broadband Plan is available at
The rub? They want to auction off a portion of the L-band spectrum used for satellite downlink communications from NOAA GOES satellites. This comes just as new satellites have been launched with new transponders using these frequencies. It's madness.
To add insult to idiocy, the frequencies provide a much needed EMWIN service to Civil Defense and Emergency Managers in the USA, and many pacific islands use it as their only source of hurricane information. It's chock full of public domain info that includes warnings, data, forecasts, and imagery. It was about to get a face lift to a new high speed data transponder (HRIT) using the same frequencies, already in orbit on GOES-R. Ground based receivers are in test mode, waiting for full deployment.
The beauty of this system is that is affordable to most anyone, using simple satellite equipment costing just a few hundred dollars linked into a PC with software.
The NOAA LRIT imagery system in another valuable service that will be in jeopardy by FCC this auction.
GOES-East Full Disk Image Viewed Using LRIT
GOES GVAR is another service that will be affected, on 1685.7 MHz This service is used by many universities and meteorological research operations.
If the FCC succeeds in auctioning off this spectrum for use as ground based broadband use, not only will the EMWIN and LRIT services from NOAA via GOES be disrupted, poorly designed transceivers might spill radio energy over into other transponder frequencies used by GOES communications, making for noise and signal dropout issues.
These frequencies have been designated for satellite communication use for a very long time, now all of the sudden, the FCC proposes an auction that will put their use in jeopardy. It is as if the FCC and NOAA don't talk to one another.
I urge all interested parties that are NOAA GOES users to file comments with the FCC regarding ET Docket 10-123. A letter and email to your Senator(s) and Representative(s) should also be considered.
Colorado State University has already filed comments. You can read their comments at this FCC link:
http://fjallfoss.fcc.gov/ecfs/comment_search/execute?proceeding=10-123
Please see the attached Public Notice from the FCC released on 6-4-2010.
"The National Broadband Plan recommends that the Federal Communications Commission (FCC) should make 500 megahertz of spectrum available for broadband use, including 300 megahertz between 225 MHz and 3.7 GHz for mobile use in the next five years…NTIA has preliminarily identified the 1675-1710 MHz band for such use and is examining the impact on its incumbent federal users."
Links to document on FCC site:
PDF version:
http://hraunfoss.fcc.gov/edocs_public/attachmatch/DA-10-1035A1.pdf
Text Version
http://hraunfoss.fcc.gov/edocs_public/attachmatch/DA-10-1035A1.txt
The 1675-1710 MHz spectrum encompasses EMWIN satellite transmissions–as well as others that are components of our national meteorological and hydrological communications infrastructure. These resources are accessed directly by others beyond the federal government. Loss of them will be felt worldwide by the meteorological community.
The FCC comment period closes 6-28-2010.
Comments can be submitted here at the FCC Electronic Comments Filing System as full page documents, be sure to list proceeding number 10-123
http://fjallfoss.fcc.gov/ecfs/upload/display?z=7tiot
Please consider submitting a comment.
UPDATE: I have posted my submission to the FCC, and in the public interest I'm placing it here (FCC-Lband PDF) should anyone wish to read it.