A couple of days ago I sent this email to Jeff Id of the Air vent, as he quite familiar with Antarctic surface temperature analysis, having outed the many problems with the Steig et al "Antarctica is Warming" paper, demonstrating poor statistical techniques used by Steig, with help from Michael Mann.
On Fri, Dec 11, 2009 at 3:11 PM, Anthony Watts  wrote:

Subject: can you replicate this?

http://savecapitalism.wordpress.com/2009/12/11/ghcn-antarctica-careful-selection-of-data/

Best regards,Anthony Watts
Jeff replied yesterday with:
I can replicate it.  The story behind this one is in the detail, which I've wasted a whole Saturday on.
Indeed the Devil is in the details, the details that few people, apparently including the scientists, bother to look at.
Jeff posted an excellent essay on the subject:
GHCN Antarctic, 8X Actual Trend – Uses Single Warmest Station
Excerpt:
The red circle is surrounding Rothera Point station.
So as we can see, of all the stations available in the antarctic, GHCN has chosen to use a single station on the Antarctic Peninsula to represent an entire continent of the earth for the past 17 years (red circle). But it's not just any station, it's a special one. Rothera Point has the single highest trend of any of the adjusted station data.
Notice that the station is on the Antarctic peninsula, I've always said that using stations here to represent trends on the main body of the Antarctic continent is plain wrong, becuase the peninsula is in a different climate zone. See my discussion here and Jeff Id's proof of it here.
I've also said time and again that most manned stations in Antarctica would be "urban" compared to the surrounding area. There's no small towns, farms, pastureland, woods, etc to compare to. Just millions of square miles of snow an ice. The research stations are the metropolises of Antarctica, each a warm pocket of humanity due to land use change and energy expended to keep warm.
For example, this picture on a postage stamp from Australia's Mawson Station, celebrating the Australian Antarctic Territory in 1997, may help you visualize the issue. Note the Stevenson Screen near the "living pod" on the right.
Here is the larger photo of the first day of issue card, the Stevenson Screen is also just visible above the snowbank in the lower right. Rather close to human habitation I'd say. Looks like its near a small AHI (Antarctic Heat Island). More here
Click for larger image
I suspected similar problems might exist at Rothera, so I started looking around to understand what the measurement envirionment is like down there. First stop, Google Earth:
Looks cold, obviously taken in winter. But I also noticed something peculiar, that "tongue" that sticks out at the top of the photo. I showed my wife the photo without saying a word about it saying only "What does this look like to you?" Her one word answer: "airport".
Yep and obviously not a naturally occurring one either. You can see that there has been infill between the point and Adelaide Island. I wondered what it looked like years ago? I found this photo in Google Earth's Panoramio, circa 1976:
Looks rather sparse, few buildings, with no indication of a runway. Compare that to another Panoramio photo from a similar vantage point taken in 2007:
Obviously the photo above was taken in summer. Looks like there has been some growth and land use change since 1976, inlcuding adding the runway with locally available materials. Given the dark albedo, and the mostly volcanic history of the Antarctic peninsula, it seems likely that the "local materials" would be volcanic rock.
Here's closer view of that rock, from "Claire of the Antarctic"
Here's another photo from Panoramio, a large panorama, which shows the entire Rothera station and the full length of the runway from sometime in 2008 or early 2009, based on the upload date listed. I've corrected the extreme fisheye effect in the original image and cropped a closer view for better presentation here.
Here's a link to the full sized lens corrected panoramic image. Warning quite large at 5463 × 709 and 0.6MB
So from the aerial and ground photos we can determine that:
Rothera has seen land use change due to the infill for the runway and service areas.
The albedo around the station has changed, due to the infill with that darker local materials.
Rothera has seen growth in buildings, and presumably population since 1976.
Rothera's aviation fuel tanks seen above and here plus the new hanger indicate an increase in aviation traffic has likely been seen since 1976.
There's apparently pressure from the tourist trade also, enough that BAS has made the: Rothera Station_visitor_guidelines. How many ships and planes that now visit have anything to do with primary research? How much extra infrastructure was created to handle tourist traffic?
As an indication of an increasing tourist trade, there sure seems to be plenty of "tourist" type photos of Rothera Station on the web like this one:
According to a BBC reporter who visited Rothera Station, they even have a coffee house. Maybe a Starbucks even?
Here's a DC-3 coming in for landing in January 2004. Research or tourists or both?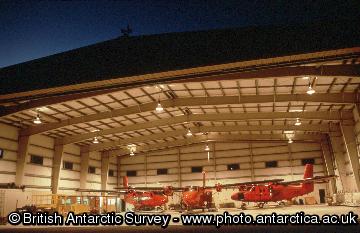 From the Wikipedia page where the improvements over time (and dates) to Rothera station have been listed) we find when the new runway was built:
With the commissioning of the gravel runway and hangar in 1991-92 air operations became more reliable and access to Rothera was greatly improved through a direct airlink from the Falkland Islands.
Just like airports wordwide, where many GHCN stations have been located, we see growth at the airport. Growth translates into UHI or in this case, AHI, since the next closest patch of humanity with a weather station is Base San Martin 75 kilometers away.
Here's another take on the growth:
History: Built in 1975 on Adelaide Island, Rothera occupies a small rocky peninsula.  A 3000′ (900m) crushed rock airstrip and hangar were added in 1990-91, making Rothera a peninsula region logistics center for British Antarctic Survey Operations.

Information: Rothera can accommodate 124 people and boasts one of the few aquariums in the Antarctic.  The Bonner laboratory complex, completed in 1997, includes a recompression chamber, a wet lab and a terrestrial biology lab.   A large new sleeping quarters building , which can house 88 people, is being constructed and should be completed by 2002.
So it is with little surprise, given the land use changes, the increased infrastructure, the new gravel runway, and an increased  tourist trade that we see this sort of temperature plot from GISS:
Prior to 1985, it looks like recording temperature there wasn't so important, as there is significant missing data. But with aviation growth comes a need for accurate weather information, and thus we don't see any missing data since then.
Where do they actually measure the temperature at Rothera? That I don't know yet, but given that the BAS puts hourly automated temperature reports on their website,and has a webcam it seems there is probably an automated weather station rather than a Stevenson Screen.
I'm guessing they have a readout for temperature in the comfort of the control tower: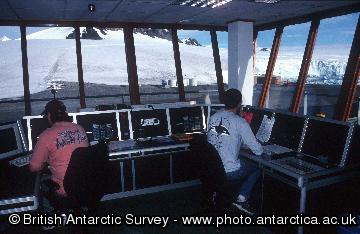 For all I know the thermometer could be on the roof or side of the control tower. Not unheard of.
Regarding the GISS temperature plot. There's a clear upwards trend. The question is: how much of it is caused by localized human influences and land use change?
Clearly, Rothera Station is no longer a "pristine" place to do science, it's just another destination, a pocket of humanity with an airport, a coffee shop and the only heat for 75 kilometers.
Is Rothera a good place to measure a long term temperature trend  to use for adjusting other Antarctic GHCN stations? Perhaps not.