"All Quiet Alert" – That sounds like an oxymoron, and maybe it is, but the sun is extremely quiet right now, so much in fact that the Solar Influences Data Center in Belgium has issued an "All quiet alert" on October 5th. Since then, the sunspot number has remained at zero.
Here is what the sun looks like now:
Daily Sun: 15 Oct 07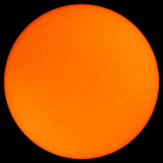 The sun is blank–no sunspots. Credit: SOHO/MDI
Click for a larger image.
There is talk about of an extended solar minimum occurring, or perhaps a recurrence of a Dalton or Maunder type minimum. There are signs that the sun's activity is slowing. The solar wind has been decreasing in speed, and this is yet another indicator of a slowing in the suns magnetic dynamo. Below are near real-time (updated hourly)dials of Solar Wind speed, Solar Wind Density, and Interplanetary Magnetic Field. More on that later.
Credit: Rice Space Institute
As you may know, the Earth's magnetosphere is distorted by the solar wind as it blows by. Modulations of the Earth's magnetopshere are said by Svensmark to cause modulations of GCR's (Galactic Cosmic Rays) and hence modulation of cloud condensation nuclei, resulting in variations of global cloudiness, and hence surface temperature.
In the meantime, a review of the Dalton Minimum might be valuable. It appears the when we have a quiet sun, our magnetosphere is not distorted as much, and this allows an increased incidence of GCR's, resulting in more cloudiness.
One thing is certain, based on past climate history and solar history, if in fact the suns magnetic activity slows, or collapses and we enter a prolonged period of little or no sunspot activity, we'll see a global cooling trend. There are a number of theories about and a couple of dozen predictions about solar cycle 24 which has yet to start. One paper by Penn & Livingston in 2006 concludes:
"If 1500 G represents a true minimum for spot magnetic fields and the field strengths continue to decrease at the rate of 52 G/yr then the number of sunspots in the next solar cycle (cycle 24) would be reduced by roughly half, and there would be very few sunspots visible on the disk during cycle 25."
We'll know more in about six months what the sun decides to do for cycle 24.