Guest slam dunk by David Middleton
For those with sensitive ears (or eyes):
Climate change endangers dozens of World Heritage sites

By Sandee LaMotte, CNN

October 16, 2018

(CNN)Pull out your passport and pack your bags for the sunny Mediterranean. But hurry.

You've got a lot of traveling to do if you're going to see some of the historical wonders of the world before climate change further damages them, according to a study published Tuesday in the journal Nature Communications.

Across the Mediterranean region, flood risk may increase by 50% and erosion risk by 13% by the year 2100, the study found, with considerably higher increases at specific World Heritage sites, areas chosen to be preserved due to their importance in human history.

The impact on those historical icons would be significant, the study warned, unless actions are taken quickly.

"Adaptation planning is urgently needed," said lead author Lena Reimann, a doctoral researcher for the Coastal Risks and Sea-Level Rise Research Group in Germany. "If our common heritage is destroyed or lost, it is not possible to replace or rebuild it."

[…]

[Blah, blah, blah]
The Nature Communications paper is not behind a paywall.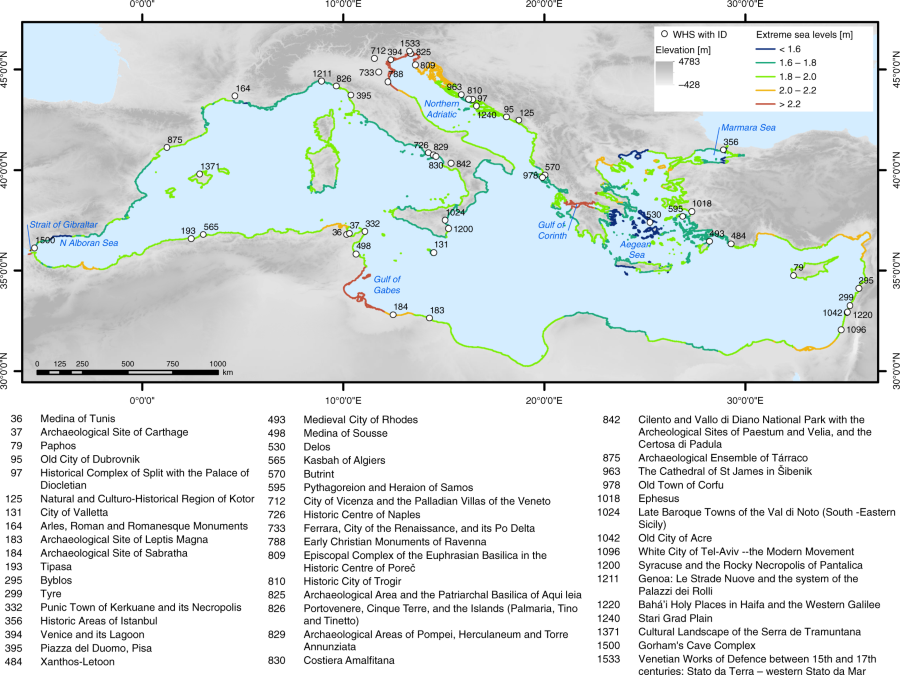 Reinman et al., 2018 is boiler plate RCP8.5 bad science fiction.
Holocene Sea Level
I didn't take the time to look up the dates of these World Heritage sites… But I'm going to guess they're OLD.  Many of them probably date back to the Early to Mid-Holocene.  [My bad… That was a bad guess.  The Late Holocene (Meghalayan Age) begins in 4200 BP (2250 BC)]  Here's a Holocene sea level reconstruction for the Arabian Gulf, with a recent reconstruction of global sea level since 1800 (Jevrejeva et al., 2014) and the satellite sea level trend from CU…
While this sea level reconstruction is for the Arabian Gulf, the Holocene High Stand was a global phenomenon.
Stormy Weather
Abstract
A high-resolution record of paleostorm events along the French Mediterranean coast over the past 7000 years was established from a lagoonal sediment core in the Gulf of Lions. Integrating grain size, faunal analysis, clay mineralogy and geochemistry data with a chronology derived from radiocarbon dating, we recorded seven periods of increased storm activity at 6300–6100, 5650–5400, 4400–4050, 3650–3200, 2800–2600, 1950–1400 and 400–50 cal yr BP (in the Little Ice Age). In contrast, our results show that the Medieval Climate Anomaly (1150–650 cal yr BP) was characterised by low storm activity.

The evidence for high storm activity in the NW Mediterranean Sea is in agreement with the changes in coastal hydrodynamics observed over the Eastern North Atlantic and seems to correspond to Holocene cooling in the North Atlantic. Periods of low SSTs there may have led to a stronger meridional temperature gradient and a southward migration of the westerlies. We hypothesise that the increase in storm activity during Holocene cold events over the North Atlantic and Mediterranean regions was probably due to an increase in the thermal gradient that led to an enhanced lower tropospheric baroclinicity over a large Central Atlantic–European domain.
The paleostorrn data were available from NOAA's paleoclimatology library.
I don't have a full copy of Sabatier, but the full text of Yu et al., 2016 is available and they provide a good discussion of clay mineralogy as a proxy for paleostorm activity.  Smectite, illite and chlorite are clay minerals.
Conclusion
References
Bard, E., B. Hamelin, M. Arnold, L. Montaggioni, G. Cabioch, G. Faure & F. Rougerie. Deglacial sea-level record from Tahiti corals and the timing of global meltwater discharge.Nature 382, 241 – 244 (18 July 1996); doi:10.1038/382241a0
Blum, M.D., A.E. Carter,T. Zayac, and R. Goble. Middle Holocene Sea-Level and Evolution of The Gulf of Mexico Coast (USA). Journal of Coastal Research, Special Issue 36, 2002.
Grant, K.M. E.J. Rohling, M. Bar-Matthews, A. Ayalon, M. Medina-Elizalde, C. Bronk Ramsey, C. Satow and A.P. Roberts. 2012.  Rapid coupling between ice volume and polar temperature over the past 150,000  years.  Nature, Vol. 491, No. 7246, pp. 744-747.DOI: 10.1038/nature11593  NOAA Study Page:https://www.ncdc.noaa.gov/paleo/study/13685
Jameson, J., C. Strohmenger. Late Pleistocene to Holocene Sea-Level History of Qatar: Implications for Eustasy and Tectonics. AAPG Search and Discovery Article #90142 © 2012 AAPG Annual Convention and Exhibition, April 22-25, 2012, Long Beach, California.
Reimann, Lena,  Athanasios T. Vafeidis, Sally Brown, Jochen Hinkel, Richard S. J. Tol. Mediterranean UNESCO World Heritage at risk from coastal flooding and erosion due to sea-level rise. Nature Communications, 2018; 9 (1) DOI: 10.1038/s41467-018-06645-9
Sabatier, P., L. Dezileau, C. Colin, L. Briqueu, F. Bouchette, P. Martinez, G. Siani, O. Raynal, and U. Von Grafenstein. 2012. 7000 years of paleostorm activity in the NW Mediterranean Sea in response to Holocene climate events.  Quaternary Research, Vol. 77, Issue 1, January 2012, pp. 1-11.  doi: 10.1016/j.yqres.2011.09.002  NOAA Study Page: https://www.ncdc.noaa.gov/paleo/study/12504
Zhaqjie Yu & Wan, Shiming & Colin, Christophe & Yan, Hong & Bonneau, Lucile & Liu, Zhifei & Song, Lina & Sun, Hanjie & Xu, Zhaokai & Jiang, Xuejun & Li, Anchun & Li, Tiegang. (2016). Co-evolution of monsoonal precipitation in East Asia and the tropical Pacific ENSO system since 2.36 Ma: New insights from high-resolution clay mineral records in the West Philippine Sea. Earth and Planetary Science Letters. 446. 45-55. 10.1016/j.epsl.2016.04.022.