The race to forecast the minimum is on again. Will it be another Serreze death spiral media opportunity? Or will it be ho-hum- nothing to see here, move along?
Once again I'm inviting readers to submit their best guess, best SWAG, or best dartboard result to the poll for the SEARCH Sea Ice Outlook. Deadline, according to the recent announcement I posted on WUWT from ARCUS is close of business Friday June 7th.
Of recent interest has been the recent tendency for the current data to hang between the 1990's and the 2000 normal line.
Japan Aerospace Exploration Agency (JAXA) – International Arctic Research Center (IARC) – Click the pic to view at source
We are in that time of year when all of the years converge into a tighter grouping. This makes judging where the current year is going to be a tough challenge at this stage.
I'm going to give WUWT readers an opportunity to make a forecast for the ARCUS SEARCH sea ice contest submission, based on voting. See the poll at the end.
I'll run this poll each month in the week before the deadline, and we'll see how we do as the minimum approaches. The value used by ARCUS  for judging the contest is the NSIDC value in square kilometers. The object is to guess what the September minimum will be.
I suggest that you should not be using the JAXA graph to forecast minimums, though it it useful for determining short term trends as it is more responsive than the NSDIC graph below, which is averaged.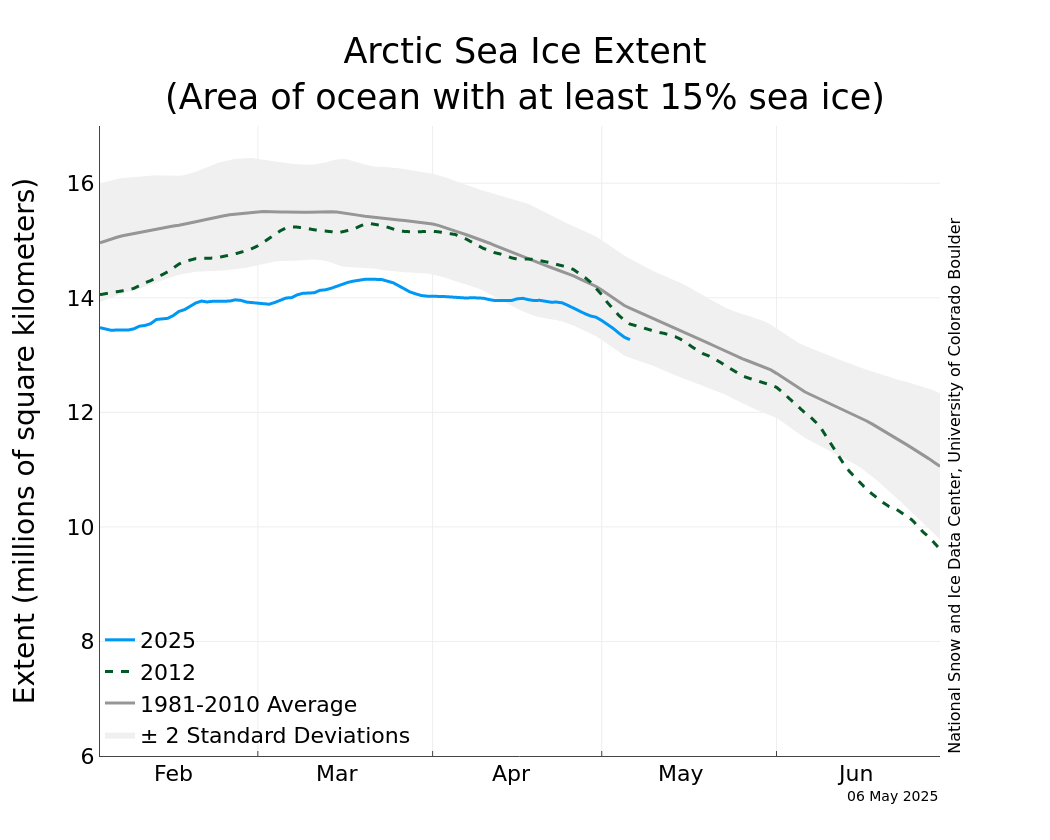 Here is what the June 2012 forecast submission reports looked like:
The archive of the 2012 contest is available here: http://www.arcus.org/search/seaiceoutlook/2012/summary
For a complete overview of Arctic and Antarctic Sea Ice, see the WUWT Sea Ice Reference page: http://wattsupwiththat.com/reference-pages/sea-ice-page/
Here is the forecast poll, deadline is Friday June 7th. Bear in mind that traditionally, forecasts in June have been too high. Last year's minimum was 3.41 million square kilometers (1.32 million square miles) at its lowest point on 16 September, and in June, WUWT readers forecast 4.9 million sq kilometers.
Note: The mean is the monthly average in sq km2 for September, which is what the contest is looking for. It is not really as interesting as the minimum, but that's the number ARCUS is looking for. Given that many of the June forecasts are too high anyway, shooting for the minimum rather than the mean might be just as good.
Note: The POLL HAS CLOSED, and I'll be submitting the forecast to ARCUS – Anthony