Updated 9AM PST Friday 8/21
Bill continues to weaken and is looking less organized.  It now has 115 mph sustained winds.
Bill is visible in the center of the image below. This satellite image will update every 30 minutes.
Animate this image: >>>
OR Switch to Hurricane Sector View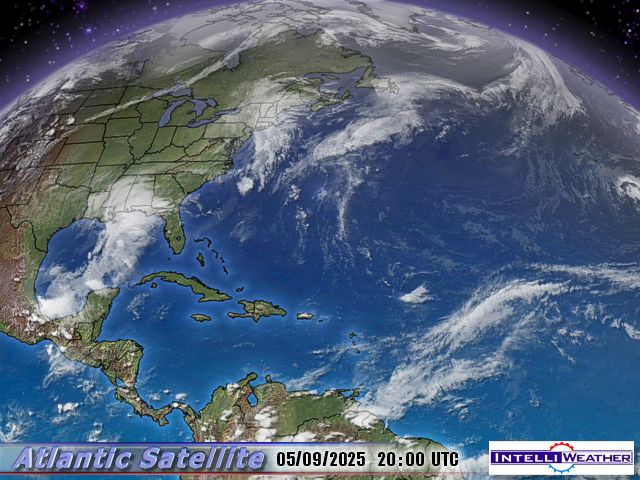 The probability plot for 120 hours out shows Bill likely to make a sharp turn to the north, affecting Nova Scotia, but with no landfall. It's remnants may affect northern England:
BULLETIN

HURRICANE BILL ADVISORY NUMBER  25...CORRECTED

NWS TPC/NATIONAL HURRICANE CENTER MIAMI FL   AL032009

1100 AM AST FRI AUG 21 2009

CORRECTED FOR TRACK PARAGRAPH

...LARGE HURRICANE BILL ON A STEADY NORTHWESTWARD TRACK...RAINBANDS

ALREADY AFFECTING BERMUDA...

A TROPICAL STORM WARNING AND A HURRICANE WATCH ARE IN EFFECT FOR

BERMUDA.

INTERESTS ALONG THE COAST OF NEW ENGLAND AND IN THE CANADIAN

MARITIMES SHOULD MONITOR THE PROGRESS OF BILL.

FOR STORM INFORMATION SPECIFIC TO YOUR AREA IN THE UNITED

STATES...INCLUDING POSSIBLE INLAND WATCHES AND WARNINGS...PLEASE

MONITOR PRODUCTS ISSUED BY YOUR LOCAL NATIONAL WEATHER SERVICE

FORECAST OFFICE.  FOR STORM INFORMATION SPECIFIC TO YOUR AREA

OUTSIDE OF THE UNITED STATES...PLEASE MONITOR PRODUCTS ISSUED

BY YOUR NATIONAL METEOROLOGICAL SERVICE.

AT 1100 AM AST...1500 UTC...THE CENTER OF HURRICANE BILL WAS LOCATED

NEAR LATITUDE 27.6 NORTH...LONGITUDE 66.3 WEST OR ABOUT 335 MILES...

540 KM...SOUTH-SOUTHWEST OF BERMUDA AND ABOUT 755 MILES...1215 KM...

SOUTHEAST OF CAPE HATTERAS NORTH CAROLINA.

BILL IS MOVING TOWARD THE NORTHWEST NEAR 18 MPH...30 KM/HR. A

GRADUAL TURN TO THE NORTH-NORTHWEST AND THEN NORTH IS EXPECTED

LATER TODAY AND SATURDAY. ON THE FORECAST TRACK...THE CORE OF

HURRICANE BILL IS EXPECTED TO PASS OVER THE OPEN WATERS BETWEEN

BERMUDA AND THE EAST COAST OF THE UNITED STATES ON SATURDAY.

MAXIMUM SUSTAINED WINDS ARE NEAR 115 MPH...185 KM/HR...WITH HIGHER

GUSTS.  BILL IS A CATEGORY THREE HURRICANE ON THE SAFFIR-SIMPSON

SCALE.  SOME FLUCTUATIONS IN INTENSITY ARE LIKELY TODAY AND

SATURDAY.

BILL REMAINS A LARGE TROPICAL CYCLONE. HURRICANE FORCE WINDS EXTEND

OUTWARD UP TO 115 MILES...185 KM...FROM THE CENTER...AND TROPICAL

STORM FORCE WINDS EXTEND OUTWARD UP TO 290 MILES...465 KM. RADAR

FROM BERMUDA INDICATES THAT SOME RAINBANDS ARE ALREADY AFFECTING

BERMUDA.

ESTIMATED MINIMUM CENTRAL PRESSURE IS 958 MB...28.29 INCHES.

BILL IS EXPECTED TO PRODUCE TOTAL RAIN ACCUMULATIONS OF 1 TO 3

INCHES OVER BERMUDA...WITH MAXIMUM AMOUNTS OF 5 INCHES.

THE BERMUDA WEATHER SERVICE FORECAST THAT THE STORM TIDE WILL RAISE

WATER LEVELS BY AS MUCH AS 3 FEET ABOVE GROUND LEVEL ALONG THE

COAST...ALONG WITH LARGE AND DANGEROUS BATTERING WAVES...IN ADVANCE

OF BILL.

LARGE SWELLS GENERATED BY THIS HURRICANE ARE AFFECTING PUERTO

RICO...HISPANIOLA...THE BAHAMAS...AND BERMUDA...AND SHOULD BEGIN

AFFECTING MOST OF THE U.S. EAST COAST AND THE ATLANTIC MARITIMES OF

CANADA DURING THE NEXT DAY OR TWO.  THESE SWELLS WILL LIKELY CAUSE

EXTREMELY DANGEROUS SURF AND LIFE-THREATENING RIP CURRENTS.

...SUMMARY OF 1100 AM AST INFORMATION...

LOCATION...27.6N 66.3W

MAXIMUM SUSTAINED WINDS...115 MPH

PRESENT MOVEMENT...NORTHWEST OR 325 DEGREES AT 18 MPH

MINIMUM CENTRAL PRESSURE...958 MB

AN INTERMEDIATE ADVISORY WILL BE ISSUED BY THE NATIONAL HURRICANE

CENTER AT 200 PM AST FOLLOWED BY THE NEXT COMPLETE ADVISORY AT 500

PM AST.