Guest post by Steven Goddard
Two days ago I questioned how Antarctic ice could be both "melting faster than expected" and "expanding" at the same time.  Yet (as WUWT has noted before) the answer is obvious – according to NASA, most of Antarctica is both cooling rapidly and heating rapidly at the same time.
http://earthobservatory.nasa.gov/IOTD/view.php?id=6502
http://earthobservatory.nasa.gov/Features/WilkinsIceSheet/images/wilkins_avh_2007.jpg
Since nearly the entire continent is both cooling and heating simultaneously, it makes perfect sense (using AGW logic) that the ice would be rapidly expanding and rapidly retreating simultaneously.  In 2004, NASA thought that Antarctica was cooling by as much as 15 degrees C per century.  But after three more years of cooling, they changed the map to show a warming trend in 2007.
The hot red warming trend seen in the second map has a stated uncertainty of "between 2-3 degrees Celsius" which means that it might actually represent a rapid cooling trend, rather than a warming trend.  Vostok is averaging -96F this week.  Does that make anyone think of hot, red colors?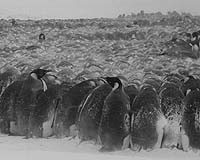 Penguins trying to keep cool in NASA's rapidly warming world
Nylo posted a link to an excellent parody of the state of Antarctic climate science, written by Dr. John Christy.
"What we believe," Dr. Frost told ecoEnquirer, "is that a new paradigm is needed in scientific thought. Since mutually exclusive sets of scientific results usually are published in respected scientific publications, we suggest that they are both true. There is a higher level of physical understanding that must be developed, one where the Yin and Yang of scientific findings are reconciled, better understood, and appreciated."
Good to see tax dollars hard at work, supporting serious and coherent science from the same organisation which put men on the moon – 40 years ago this July.
---
Shakespeare apparently saw AGW coming:
Much Ado About Nothing
The Comedy of Errors
All's Well That Ends Well
Measure for Measure A Midsummer Night's Dream The Tempest