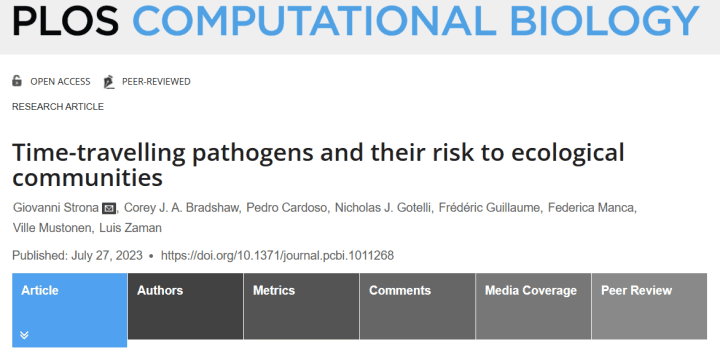 Grab your popcorn, folks! The curtain is up and we're being treated to the latest in a long line of climate alarmist productions: the tale of ancient, frozen pathogens wreaking havoc on our unsuspecting modern world. According to a new study published in PLOS Computational Biology, these 'time-travelling' pathogens could emerge from the melting ice and permafrost due to climate change, posing significant threats to ecosystems and humanity itself.
Climate change could hasten the release of 'time-travelling' pathogens from melting permafrost and ice that have been trapped for millennia. Their emergence increases threats to the global environment and even humanity itself.

While melting glaciers and permafrost risk the re-emergence of many types of dormant pathogens, the potential destruction to modern ecosystems posed by these microbes has been difficult to predict.

https://www.eurekalert.org/news-releases/996618
According to Dr. Giovanni Strona, lead author of the study,
"The scientific debate on the topic has been dominated by speculation, due to the challenges in collecting data or designing experiments to elaborate and test hypotheses. For the first time, we provide an extensive analysis of the risk posed to modern ecological communities by these 'time-travelling' pathogens through advanced computer simulations."

https://www.eurekalert.org/news-releases/996618
The researchers have run some impressive-sounding digital simulations, pitting modern microbial communities against their ancient counterparts and observing the ensuing chaos.
Of course, the inevitable doomsday results are presented. The study reveals that
"about 1% of those invaders presented unpredictable results — some caused up to one third of the host species to die out, while others increased diversity by up to 12% compared to the simulations where escape was not permitted."

https://www.eurekalert.org/news-releases/996618
For the uninitiated, it might sound like we're on the cusp of an ecological apocalypse. But for those who've seen this show before, it's the same old fear-mongering script dressed up with different props.
As is so often the case, the devil is in the details. These "computer simulations" are just that – simulations, not reality. As all mathematicians and scientists worth their salt know, any model is only as good as its inputs and assumptions. Simulating the interactions of long-dormant pathogens with modern ecosystems involves countless variables and uncertainties.
Flinders University Professor Corey Bradshaw furthers the climate catastrophe narrative by suggesting that the release of these pathogens is "not negligible" and warns that
"in the worst, but still entirely plausible case, the invasion of a single ancient pathogen reduced the size of its host community by 30% when compared to our non-invasive controls."

https://www.eurekalert.org/news-releases/996618
Yet he conveniently fails to mention the wide range of outcomes these simulations produced, focusing solely on the 'worst-case' scenarios that fuel the most fear.
Interestingly, the researchers admit that the risks from these pathogens might seem small, given that they are based on just 1% of their simulations. However, they quickly follow this concession with an attempt to amplify fear by asserting that
"given the sheer number of ancient microbes regularly released into modern communities, these outbreaks represent a substantial danger."

https://www.eurekalert.org/news-releases/996618
While they don't specifically mention it, this is another case of Climate Alarmists using the logic of Pascal's Wager in policy debates. What these "scientists" fail to appreciate when accepting the logic of the wager, is that in order to be logically consistent they now must attend church religiously and become pious Christians. You can't pick and choose when you apply the logic. It either is valid or it isn't.
Are these so-called 'time-travelling' pathogens really the significant threat we're being led to believe, or just another piece in the alarmist puzzle, designed to generate fear and secure more funding for climate-related research?
Science should not be a tool for manipulation and alarmist propaganda. We must demand better from those who seek to inform us, insisting they do so in a manner that respects the complexities and uncertainties inherent in their work, rather than resorting to simplified scare tactics.
Readers, what are your thoughts on this latest climate alarmist tale? Drop your comments below.
JOURNAL
PLoS Computational Biology
DOI
METHOD OF RESEARCH
Computational simulation/modeling
SUBJECT OF RESEARCH
People
ARTICLE TITLE
Time-travelling pathogens and their risk to ecological communities