From NOT A LOT OF PEOPLE KNOW THAT
By Paul Homewood
h/t Ian Magness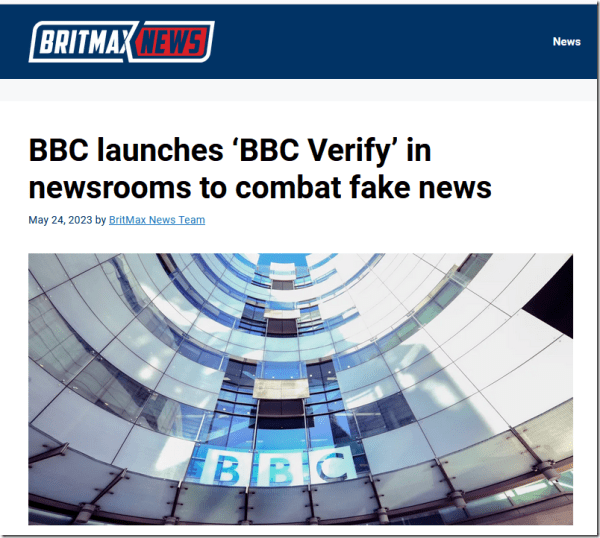 The BBC, Britain's public broadcaster, announced the launch of a new "disinformation" unit in its newsroom to combat claimed conspiracy theories and fake news.
The British Broadcasting Corporation (BBC), which is funded by a statutory fee on individuals who watch live television under penalty of fine or imprisonment, stated that its news division will include a new squad branded "BBC Verify" to refute misinformation.
Deborah Turness, the CEO of BBC News, stated that BBC Verify will be composed of approximately 60 journalists "who will form a highly specialised operation with a range of forensic investigative skills and open source intelligence" and will be deployed to provide fact-checking, video verification, counter-disinformation, and "crucially – explaining complex stories in the pursuit of truth."
Marianna Spring, the BBC's Disinformation Correspondent, stated that "mistruths can cause really serious harm to society." Spring, who will host the BBC podcast 'Marianna in Conspiracyland,' claimed she has set up some "undercover accounts" on social media to follow "polarisation online," such as what is recommended to users.
According to the millennial journalist, she is currently studying "the UK's conspiracy theory movement," which she claims has "evolved and intensified" since the Chinese coronavirus outbreak. Spring identified "alternative media" as a source of so-called conspiracy theories.
"I'm looking at the way alternative media is funded, I'm looking at its impact on local communities, I'm looking at its connections with far-right figures and also its foreign links," she said.
"Could January 6th or the German coup attempt we saw there ever happen in the UK?" Spring questioned.
The BBC, which has been restructuring to cut costs amid government threats to end the contentious licence fee from the public, may be attempting to demonstrate its value to politicians in Westminster, who have repeatedly expressed a desire to monitor the spread of 'disinformation' on the internet.
A separate study that same year indicated that only 44% of Britons trusted BBC journalists to be truthful in their reporting, compared to 48% who did not trust its news division to be accurate.
Evidently left wing media disinformation is OK with Marianna!
As for the idea that the Jan 6th protest was some sort of a coup is disinformation itself.
But if Marianna wants to get her teeth into some real disinformation, maybe she should start with this: