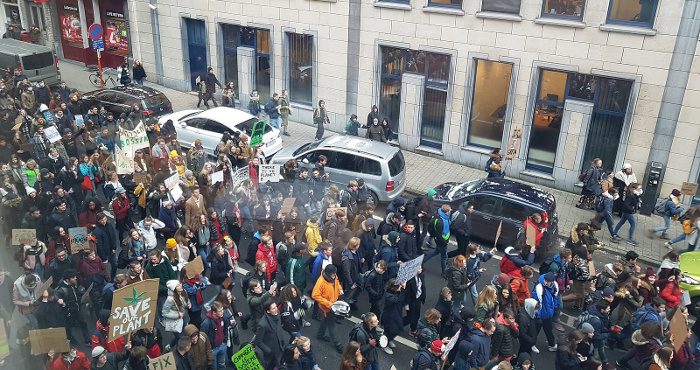 Guest essay by Eric Worrall
Alexandria Villasenor, 13, hopes braving brutal polar vortex winter conditions by sitting outside UN Headquarters will inspire others in the US and China to join her school strike against global warming.
How a 7th-grader's strike against climate change exploded into a movement

By Sarah Kaplan
February 16 at 10:00 AM

NEW YORK — On the ninth Friday of her strike, 13-year-old Alexandria Villasenor wakes to a dozen emails, scores of Twitter notifications, and good news from the other side of the planet: Students in China want to join her movement.

Every week since December, the seventh-grader has made a pilgrimage to the United Nations Headquarters demanding action on climate change. She is one of a cadre of young, fierce and mostly female activists behind the "school strikes for climate" movement. On March 15, with the support of some of the world's biggest environmental groups, tens of thousands of kids in at least two dozen countries and nearly 30 U.S. states plan to skip school to protest.

Their demands are uncompromising: Nations must commit to cutting fossil-fuel emissions in half in the next 10 years to avoid catastrophic global warming.

…

"My generation is really upset." The deal struck at COP24, the U.N. climate meeting in December, was insufficient, she says. "We're not going to let them . . . hand us down a broken planet."

"Huh. Right," the reporter says. "Big ambitions."

Alexandria raises her eyebrows.

"Yeah," she replies, confident.

Afterward, she changes into her striking uniform: waterproof ski pants and a down jacket, all in white, just like the congresswomen at the State of the Union and the suffragists of old. She packs her bag — planner, thermos, gloves — and grabs her plastic-encased cardboard signs, which read "SCHOOL STRIKE 4 CLIMATE" and "COP 24 FAILED US."

…
Read more (paywalled): https://www.washingtonpost.com/national/how-a-7th-graders-strike-against-climate-change-exploded-into-a-movement/2019/02/15/e20868e2-2fb4-11e9-86ab-5d02109aeb01_story.html
What is wrong with this picture?
Thank you @blkahn! I enjoyed talking to you and you wrote a great article about my @UN #ClimateStrike and our plans for March 15th! @Strike4Youth @StrikeClimate @GretaThunberg https://t.co/PUGfdhQOv4

— Alexandria Villaseñor (@AlexandriaV2005) February 1, 2019
For me, the most striking thing in the picture is the amount of plastic on display – plastic covered signs, and plastic cold weather gear Alexandria is wearing. Most plastic is produced by processing chemicals extracted from fossil fuels.
If kids want to strike against global warming, and strike against fossil fuel extraction, surely the first thing they should do is divest themselves of the products of fossil fuel extraction, products they would deny to future generations.
Alexandria not alone in failing to see the connection between her own life choices and fossil fuel products – most of the pictures I've seen of school strikers involve a lot of plastic cold weather gear.
What about the impact on Alexandria's education? A lot of commenters (including myself) have suggested that school strikers will do their future prospects harm, but on reflection I think it more likely that at least some of today's liberal universities will give verified student strikers a credit, to compensate for missing their studies while they were out marching against climate change.