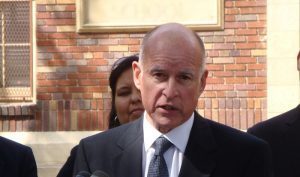 Guest essay by Eric Worrall
h/t Breitbart – Governor Jerry Brown of California thinks coming climate disasters will convert even the "worst" skeptics in five years, though in a surprisingly moderate interview (for Brown) he also admitted that forest management might be playing a part in California's wildfires.
Source: Breitbart and CBS Face The Nation
Note: the five year quote is at the end of the video clip above
A few months ago, Secretary of the Interior Ryan Zinke fired a broadside at green obstructionism, blaming green activists for stopping logging and other active forest intervention, which led to a rise in fuel load and the severity of forest fires.
… Third, and most important, the active management of our forests will save lives. The Carr Fire in northern California has already claimed half a dozen lives, and the Ferguson Fire has taken the lives of two firefighters. Sadly, these are not the only wildfire casualties this year.

Every year we watch our forests burn, and every year there is a call for action. Yet, when action comes, and we try to thin forests of dead and dying timber, or we try to sustainably harvest timber from dense and fire-prone areas, we are attacked with frivolous litigation from radical environmentalists who would rather see forests and communities burn than see a logger in the woods. …
Read more: https://wattsupwiththat.com/2018/08/14/green-fury-california-fires-caused-by-environmentalists-not-climate-change/
Even if you believe climate change is contributing to the fires, better forest management will save lives. If there is nothing to burn, there can be no fire. Proper firebreaks, tree thinning and access roads should be enough, but chopping down entire forests is always an option, for areas where access roads and firebreaks do not provide sufficient protection. Human lives are more important than trees.
At the very least clear the trees away from houses in vulnerable areas. Every picture of Paradise, California I've seen to date shows the remains of giant trees right next to burned out buildings. This is madness.
We learned this lesson the hard way in Australia. Let us hope US government agencies take action before more lives are lost.