Bastardi: No Michael Mann — Climate change did not cause Hurricane Harvey
Meteorologist Joe Bastardi takes down fake Nobelist Michael Mann's lame effort in the Guardian to link climate with Hurricane Harvey.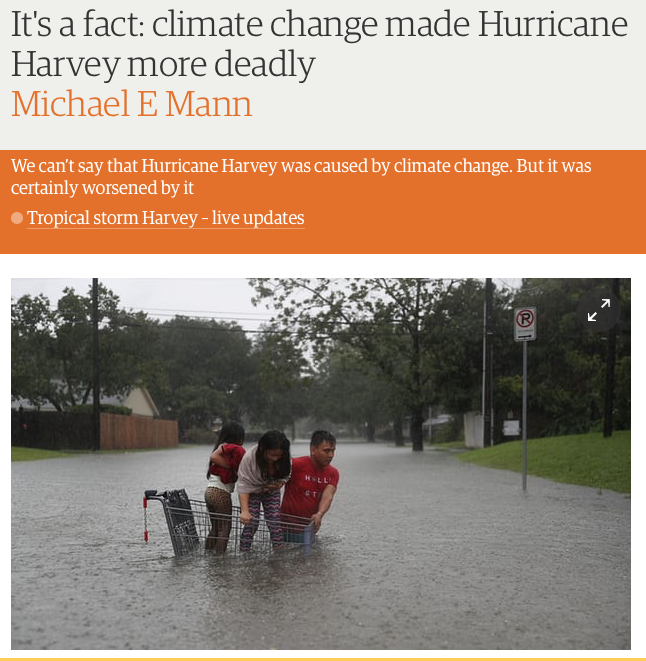 By Joe Bastardi
August 29, 2017, Reprinted with the permission of Weatherbell.com
Dr. Mann at PSU has outdone himself. Back when New England had their famed February with snow and cold, he made the claim a warm eddy some 350 miles ESE of New England was enhancing water vapor and leading to extra snow. But:
If he plotted trajectories from the storms he would see that the air from that source could not get back over New England since the mean flow would lead to enhanced snows in the Canadian Maritimes.
Convective feedback from such warm eddies would act to PULL STORMS OUT TO SEA.
The mean water vapor surface to 700 mb was BELOW NORMAL in New England in Feb 2015. The extra snow was high ratio snow with great crystal growth soundings because of the cold!
This is why climatologists should be forced to forecast for a year, so they can get an appreciation of what the weather does, not what they think it does based on their "research."
But he may have outdone himself here.
I was emailed this quote, supposedly from him. It's making the rounds in the skeptic community. It was in the Guardian
The stalling is due to very weak prevailing winds, which are failing to steer the storm off to sea, allowing it to spin around and wobble back and forth. This pattern, in turn, is associated with a greatly expanded subtropical high pressure system over much of the US at the moment, with the jet stream pushed well to the north. This pattern of subtropical expansion is predicted in model simulations of human-caused climate change.
He unwittingly describes THE EXACT OPPOSITE EFFECT to what is going on.
He could not have even looked at the 5 day means! There was no expansive subtropical high. Quite the contrary there was a well forecast MJO phase 2, with a major cool trough in the 5 day means trapping the hurricane. Out to sea? In August? In Texas? When does anyone see that? They move northwest or west through the state. BECAUSE NORMALLY THERE IS NOT A MAJOR TROUGH THAT FAR SOUTH TO STOP THE STORM! When has anyone given the coast of Texas seen a storm move "out to sea" what does it turn around and head back southeast? Look at the 500 mb means and 5k temps, This is what is a ridge? There is a major ridge in the west like we see when there are a lot of storms. It's warm in the west cool in the east, but there is no subtropical ridge trapping this storm. It's caught in trough.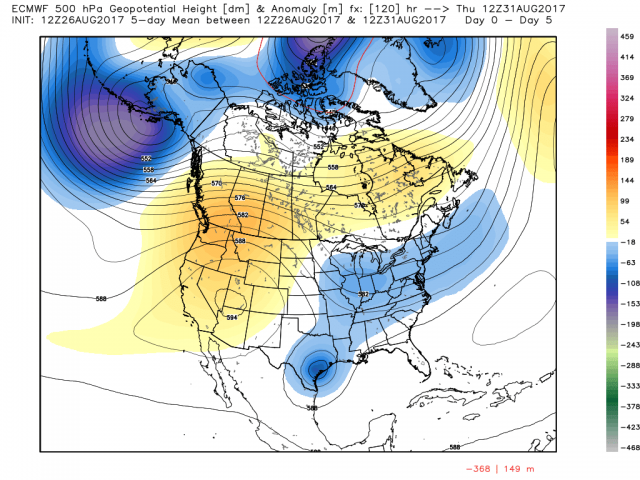 That is the five-day mean.
Here are the temps at 5K.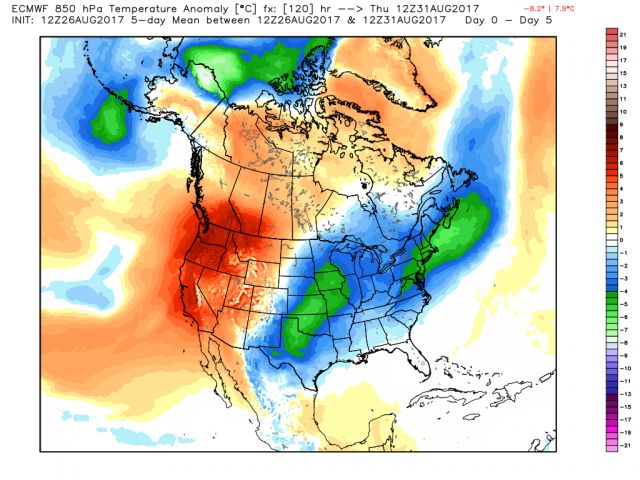 Which looks a lot like the phase 2 MJO I have been drooling about for over a week to set all this up.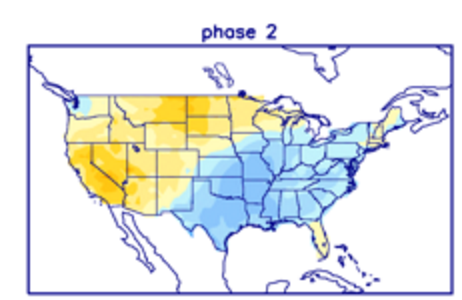 And it lights up the tropics.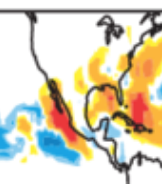 Here is the other little ditty he is blissfully unaware of. If it was just caught in a subtropical ridge, it would HAVE NO BAROCLINIC FORCING which enhanced the rain. The cooling from the trough while the storm was stalled and STILL bringing in warm moist air clearly helped amounts. Take a storm inland with a uniform temperature gradient as in an enhanced subtropical ridge, they die.
So what apparently he is describing is a ridge position enhanced that means the storms moves slow. DO YOU UNDERSTAND THAT THIS IS THE OPPOSITE? THIS IS A MAJOR TROUGH TOO FAR SOUTH. The same thing that caught Elena in 1985 except it was over the gulf.
It Caught Dennis in 1999.
But Dennis was over the water before he came back. You want really crazy? Look at Esther in 1961.
Major cool shots, not the kind of blocking ridge that you get occasionally like… let's say Ginger in 1971 or Dora in 1964. Both storms that had major ridges to the north, which do happen sometimes steering them in. But amplitude happens. It always has and always will.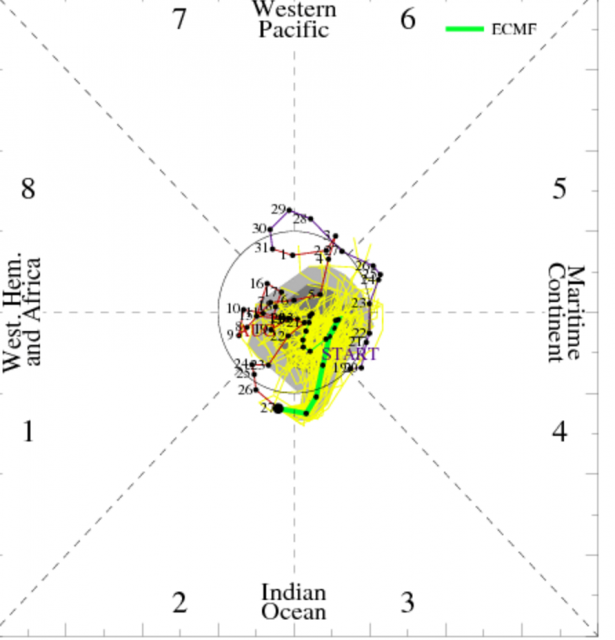 I usually do not get involved with the climatariat. But I set this pattern up from Spring. As soon as the cool started coming in July I said here we go. This phase 2 had me chomping at the bit (still does). So when I got emailed this tonight, I had to comment.
The gentler side of me understands he could not have looked at the major cold trough in the means when he accused the expansion of the subtropical ridge as the cause. The gentler side of me understands that he did not think about the implication of a storm trapped over land in a mainly barotropic atmosphere vs one where baroclinic processes are also going on (e.g., heavy rains on troughward side of recurving hurricanes) The gentle side would like to say, brother you should forecast for a year where something is on the line so you can understand what the heck you are saying.
That would be my suggestion, but that quote, given the actual reasons for what set this up and what occurred is about as opposite as you can get. And if someone wants to suggest the highly amplified pattern, which is what phase 2 in hurricane season does, where its hot in the west is the reason, then fine, quit talking about coast to coast heat cause it means there will be a whole lotta cooling going on.
Now if it's me, I would be talking about the warmth of the oceans. (You see I know what they should be arguing.) And how in a phase 2 with all the cool in the US, that favors big storms near our coast. (You may see another next week, and whether named or not, this system tomorrow will have tropical storm conditions from NC to South Jersey). If the Atlantic was colder, it wouldn't be as likely. But instead, to justify these nonsensical models, we get a quote when the actual set up reveals there is no abnormal subtropical ridge. IT'S OPPOSITE. THERE IS A BIG TROUGH OVER THE EAST. In fact Mann does not even understand that a stronger than normal SE US ridge generally means less impact on the US such as 2007. Our preseason idea showed how warmth may be distorting patterns so that it leads to less hits but this year we felt it would be different.Look at what has been going on, its been cool over the last month. Perhaps Mann is even unaware of that.
Let me tell you folks something, Harvey is horrible. For that area of Texas the rain is unprecented. Other areas have had it. But its not climate change, unless climate change means cooler than normal temps across much of the United states in one of the best growing season summers we have seen since the summers of 2013-2015 — even last year.
But what is despicable is what I see coming out. If Dr. Mann was out on a limb before the season showing what he thought, or even earlier this week, that is one thing, But this is an example of what will be a relentless tirade of statements Say nothing, make no forecast you can actually be held accountable for, then come out after and grab headlines with stuff like this. And if he wants to debate me on what caused this storm to act the way it did, given what I have shown, I'm right here, bring your stalled subtropical ridge but you wil have to glo look over Afrida cause tis not over the US And if he wants to tell me that the expansion of the subtropical ridgen now means a trough that catches and stops a tropical cyclone and enhances baroclinic processes in warm tropical air, I would love to see that explanation, that below normal heights and temps are a sign the subtropical ridge is stornger than normal, at an AMS conference with just operational mets looking on. Would be worth the price of admission
Get ready for more of this. We had a high impact, major hit drought ending hurricane season specifically targeting the northwest gulf in our preseason forecast with all the reasons. It's why this year was different from the past 12, where by the way, because of it warming more in the north than over the tropics may be leading to a reduction of storms. You can read the why before what, having nothing to do with climate change, here. It's from MAY! The only thing I updated was the ace to a normal range in June and there have been no updates since.
This is really starting to get nuts. They sit and hide and only come out after the fact. Let's see him you make a forecast for the season or even 5 days out when this was nothing. Fat chance. But its not going to stop and its only going to get worse. In 10 days or so, another major impact event could threaten the southeast. Why? because that is the pattern we are in and it was predictable and still is. Nothing to do with CO2 or an agenda.
---
For further reading on why Dr. Mann's claims have no credibility, one only needs to read this book:
You can order it on Amazon here, .