From Spaceweather.com
TOTAL LUNAR ECLIPSE: Earlier today, for the first time in 372 years, a total lunar eclipse occurred on the date of the northern winter solstice. Observers in North America were favored with an overhead view as the full Moon slipped in and out of Earth's eerie red shadow. Jonathan Sabin sends this picture from Ellenton, Florida: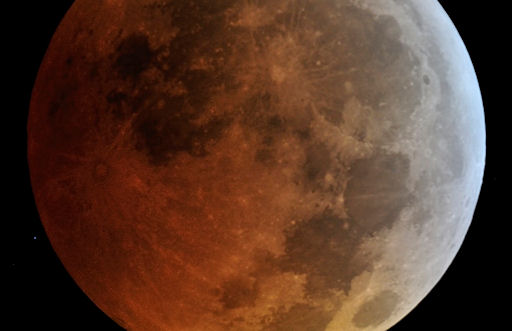 Photo details: 10″ Meade LX200, Nikon D300, prime focus,ISO 1250, 2s exposure
"It was an absolutely gorgeous night for an eclipse!" says Sabin.
Sabin's photo captured not only the red light at the core of Earth's shadow caused by sunlight filtering through the stratosphere, but also the "turquoise fringe" caused by our planet's ozone layer. Pictures like this are golden for researchers who look at the colors of eclipses to diagnose the state of Earth's atmosphere. See "All-Clear in the Stratosphere," below.
more images: from Rod Lindley of Dallas, TX; from Kevin R. Witman of Cochranville, Pennsylvania; from John W. O'Neal, II of Amherst, Ohio; from Evan Ludes of Omaha, Nebraska; from John Stetson of Southport, CT; from Mark A. Brown of Carlisle, Pennsylvania; from Giancarlo Ubaldo Nappi of Belo Horizonte MG, Brazil; from Phil Harrington of Long Island, NY; from Mike Mezeul II of Sachse, Texas
See the Lunar Eclipse Photo Gallery