This week was a true roller coaster ride with Arctic Sea Ice. It is best summed up by looking at the JAXA graph for extent, shown below:
Below, see the area of interest magnified.
I've added the 5 million square kilometer line for reference.
The roller coaster ride actually looked for a day like it might cross the 2009 line, but soon turned down again, ending this week at 5,142,813. Here's the recent JAXA data
08,28,2010,5342656

08,29,2010,5352500

08,30,2010,5348281

08,31,2010,5329375

09,01,2010,5332344

09,02,2010,5304219

09,03,2010,5245625

09,04,2010,5192188

09,05,2010,5142813


Source: http://www.ijis.iarc.uaf.edu/seaice/extent/plot.csv
JAXA sea ice area has dropped to 2008 levels:
Sea ice concentration from JAXA:
While JAXA shows extent now lower than 2009, DMI and NANSEN plots show it to be about even. The differences in observing sensor/platform AMSRE -vs-SSMI  and methodologies at agencies are in play.
The differences appear to be in the low end of concentration, the 15% to 30% range. It suggests that the brief gains we saw may be wind related, blowing floating ice around, compacting it when winds are strong versus allowing expansion when winds are weak.
Temperature, after holding near freezing, now appears headed sharply downward.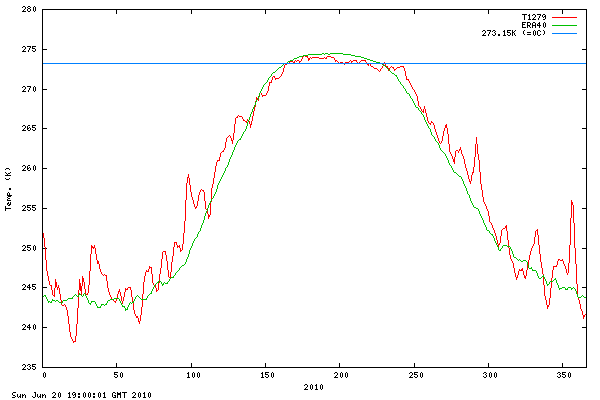 Above: Danish Meteorological Institute – Mean Temperature above 80°N
Some light refreezing may take place before the end of September, which could minimize the ability of wind to sharply change extent like we saw recently.
With all these variables in play, choosing a winner will be as much a game of luck as of skill. Based on what we've seen, it seems probable that it will come from the middle of the pack between 2008 and 2009.
From SEARCH:
The estimates from the scientific community range from 4.0 to 5.6 million square kilometers, with 8 of the contributors suggesting a September minimum below 5.0 million square kilometers, 3 contributors suggesting a minimum of 5.0 million square kilometers, and 5 contributors suggesting a September minimum above 5.0 million square kilometers. Two contributors forecast a September minimum below that of 2007 at 4.0 million square kilometers and 3 contributors suggest a return to the long term downward linear trend for September sea ice loss (5.5 to 5.6 million square kilometers). None of the contributors indicate a return to the climatological sea ice extent of 6.7 million square kilometers.
Including all 18 contributions gives a September ice extent minimum of 4.8 +/- 0.77 million square kilometers, with a range of 2.5 to 5.6 million square kilometers.
Individual responses were based on a range of methods: statistical, numerical models, comparison with previous observations and rates of ice loss, or composites of several approaches.