News update by Ryan Maue
Update:  The jails were emptied Monday morning.  Also, Daryl Hannah has announced that she is heading to the White House oil-sands protest.
Update:  New York Times editorial page comes out for against the Tar Sands Pipeline.  However, their language sounds half hearted, and they seem to be checking a box knowing that inevitably the pipeline will go forward regardless of it's carbon footprint, or something.
The Tar Sands protest organized by Bill McKibben has hit an unexpected snag:  the US Park police have cracked down on the protesters.  Instead of a simple "traffic ticket" type of arrest and release with a few hours in jail, many climate activists were stunned to learn that their "civil disobedience" may keep them behind bars for at least 48-hours until arraignment [Link to Grist.com lament]. 
Meanwhile, President Obama is managing the end of Gaddafi in Libya from his beautiful luxury vacation spot in Martha's Vineyard.  With Janet Napolitano always talking about the threats from domestic extremism typically orchestrated by environmental or "green" groups, one has to wonder if the US Parks police in the Capitol are sending a warning message by locking up the protestors for a good spell.
When Obama approves the pipeline and slaps these "true believers" in the face again, will they desert him for another candidate in the upcoming election?  Nah.
More pictures of the "protest" including McKibben hauled away in handcuffs here at the Puffington Host.  Please try and refrain from mocking these people as hippies or 70s retreads.
Also, has anyone heard if this upstart climate scientist (apparently the only academic currently employed as a professor "descending" on Washington) will still come — and will he risk being arrested?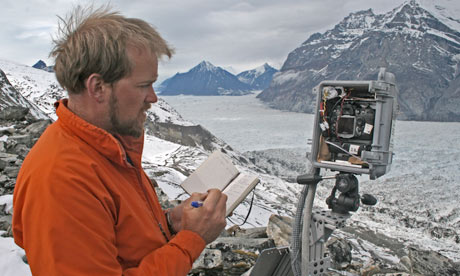 Climate scientist willing to face arrest at tar sands pipeline protest
Climate scientist Jason Box says oil sands are a moral issue that he feels compelled to address at Keystone XL pipeline protests — UK Guardian