Here is the web page for Dr. Raymond S. Bradley who is listed as:
University Distinguished Professor in the Department of Geosciences and Director of the Climate System Research Center (http://www.paleoclimate.org).
Readers may also recognize Dr. Bradley from his co-authorship with Dr. Michael Mann in the famous MBH98 paper which produced the embattled "hockey stick" graph.
Dr. Bradley has also gained some recent notoriety with his accusations of plagiarism regarding the Wegman report to congress, by Dr. Edward Wegman of George Mason University, which was critical of MBH98's statistical methods.
Here's Dr. Bradley's photo from his UMass web page:
Notice anything interesting? Here are some hints:
His graph for CO2 data titled "Greenhouse Gas Record from the Vostok Ice Core" shows a value around 360 ppm for CO2 at the "zero date" of the present history.  The photo must be old, since the current value in the atmosphere from Mauna Loa is said to be around 390ppm currently.
So, it's an old photo, what's the problem you say?
For readers not familiar with the CO2 data from the Vostok Ice Core, you can find the official data set here from NOAA's FTP servers:
CDIAC (Carbon Dioxide Information and Analysis Center)
ftp://cdiac.ornl.gov/pub/trends/co2/vostok.icecore.co2
NCDC (National Climatic Data Center)
ftp://ftp.ncdc.noaa.gov/pub/data/paleo/icecore/antarctica/vostok/co2nat.txt
NASA Goddard also offers access to the official Vostok data here:
http://gcmd.nasa.gov/records/GCMD_CDIAC_CO2_VOSTOK_ICECORE.html
…and they offer this helpful graph, which is time reversed from Dr. Bradley's graph, with the present day on the left:
That's odd, the Vostok CO2 data for the present is around 280ppm, way lower than the 360ppm shown on Dr. Bradley's graph. Strange, but that NASA web page on Vostok Ice Core data shows the most recent update at:
So it must be current, right?
So let's look at some other sources, maybe they are closer to Dr. Bradley's value, surely there must be some update somewhere to this Vostok data that I've missed.
Let's check Wikipedia, which always seems to be updated. Even though William Connelly doesn't edit there anymore surely it's been updated with this new data in the past year or so? Here's the Wikipedia graph:
Source: http://en.wikipedia.org/wiki/File:Vostok_Petit_data.svg
That's odd, the CO2 data there shows just over 280ppm of CO2 in the Vostok record. But they reference Petit, et al 1999 on that page. Hmmm, I went to find that paper, and was able to locate a PDF copy of it here: http://www.daycreek.com/dc/images/1999.pdf and I saved a local copy here Vostok_nature_1999 to prevent overloading that website with downloads. Here's the title of that 1999 paper from Nature:
Climate and atmospheric history of the past 420,000 years from the Vostok ice core, Antarctica
J. R. Petit*, J. Jouzel†, D. Raynaud*, N. I. Barkov‡, J.-M. Barnola*, I. Basile*,M. Bender§, J. Chappellaz*,M. Davisk, G. Delaygue†, M. Delmotte*, V. M. Kotlyakov¶, M. Legrand*, V. Y. Lipenkov‡, C. Lorius*, L. Pe´ pin*, C. Ritz*, E. Saltzmank & M. Stievenard†
Oh, OK, that explains it, the CO2 levels in 1999 must have been 360ppm and that's where that value on Dr. Bradley's graph comes from. Let's check the Mauna Loa record for 1999 here: ftp://ftp.cmdl.noaa.gov/ccg/co2/trends/co2_mm_mlo.txt
The values for 1999 are:
1999   3    1999.208      369.46      369.46      367.90     26

1999   4    1999.292      370.77      370.77      368.19     30

1999   5    1999.375      370.66      370.66      367.84     29

1999   6    1999.458      370.10      370.10      367.87     30

1999   7    1999.542      369.10      369.10      368.42     30

1999   8    1999.625      366.70      366.70      368.21     30

1999   9    1999.708      364.61      364.61      367.95     29

1999  10    1999.792      365.17      365.17      368.41     31

1999  11    1999.875      366.51      366.51      368.58     29

1999  12    1999.958      367.85      367.85      368.58     29
Well that explains it then right? The value of the CO2 atmosphere in 1999 was around 360 ppm, so that's what Dr. Bradley was showing in that old photo. And the 1999 Nature paper from Petit et al must show the same value, right? Here it is:
Huh, that's strange, it only shows around 280ppm of CO2 at the "present" of 1999 when this graph was published.
Well OK, the archived NOAA data on the FTP server must be updated and have ~360ppm somewhere in the dataset, right? So I looked through it to be sure. Here's the most recent data from: ftp://cdiac.ornl.gov/pub/trends/co2/vostok.icecore.co2
Hmmm, the most recent data is from 2342 yr BP (years before present) and shows 284.7. That can't be right, because the distinguished Dr. Bradley shows the data at around 360ppm. Yet, the header shows the co-author names from the 1999 Nature paper on the Vostok ice core data analysis. Surely there must be an update to it?
Maybe the other NOAA data set from NCDC  is what he used? at: ftp://ftp.ncdc.noaa.gov/pub/data/paleo/icecore/antarctica/vostok/co2nat.txt
Well, it agrees with the CDIAC data, but there's still no ~360ppm of CO2 listed in the data for the most recent readings.
Well gosh, how can this be?
The answer is seems, is that there is no new data from the Vostok Ice core. It ended, and the official repositories of that data have no new data. The last CO2 value for the Vostok Ice Core dataset is listed as being 284.7ppm.
So how does Dr. Bradley get ~360ppm? Easy, I think he uses the same technique he and his co-authors learned when writing the famous MBH98 paper that made the hockey stick -splice the instrumental record onto the paleo record: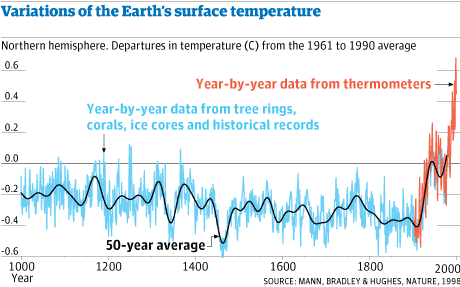 Graph above from Fred Pearce's Feb 2010 article in the Guardian shows the instrumental record attached to the ice core record.
And here's a later version from 2003 showing the same instrumental record splice along with paleo data (Figure 1. from Mann et al. EOS Forum 2003):
Source: http://www.ncdc.noaa.gov/paleo/pubs/mann2003b/mann2003b.html
So it seems rather apparent that Dr. Bradley (or whoever made the graph) simply took the Vostok Ice Core CO2 paleo data and "spliced" it with the instrumental record on the end. Or, as Joe Romm likes to say "make stuff up".
The only problem is, as he presents it with the title of his graph: Greenhouse Gas Record from the Vostok Ice Core as shown below…
…it's patently  false in my opinion. Ditto for the red Methane line, but that's another story.
Now here's the problem. If you took surface temperature data from Antarctica, and spliced it with surface temperature data from Hawaii, and then presented it as the entire historical record from Antarctica, our friends would have a veritable "cow".
Or, if you took stock performance data from poorly performing Company "A" and spliced on better performing stock data from Company "B", and then made a new graph and used that graph to sell investors on Company "A", the Securities and Exchange Commission (SEC) would have a veritable "cow" when they found out, wouldn't they? People go to jail for such things.
But hey, this is Climate Science.
big h/t to WUWT reader Brian M. who sent the tip in via email.
Addendum: I should add that I have no evidence that this graph has been used in any scientific publications or professional presentations by Dr. Bradley, I'm only pointing out that for this photo, which appears to be staged, what is presented doesn't match the actual Vostok data. Readers should not extrapolate anything beyond this scope until new examples are presented. – Anthony