Today, Japan made history by landing two rovers onto the surface of an asteroid. The two rovers (named Rover-1A and 1B) fell from their mothership, Hayabusa2, less than 100 meters above diamond-shaped asteroid Ryugu. Now they are hopping across the rocky landscape in an unprecedented feat of exploration. This picture was taken by Rover-1A in mid-hop: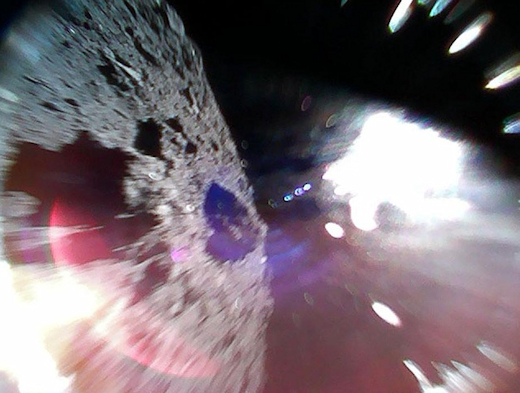 Hopping is necessary because the asteroid's gravity is too weak for simple rolling.  Instead of wheels, the rovers have rotating motors inside that allow them to shift their momentum and, thus, make little jumps across the asteroid's rugged surface. Mission controllers are taking great care that the rovers, which measure 18 cm by 7 cm and weigh only 1 kg, do not fly into space.
As historic as this achievement is, it is only the beginning: The two rovers are on a reconnaissance mission for two more robots slated to land later this year.  In October, Hayabusa2 will release MASCOT (Mobile Asteroid Surface Scout), a larger lander made by the German Aerospace Center. MASCOT will be followed, in turn, by another Japanese robot.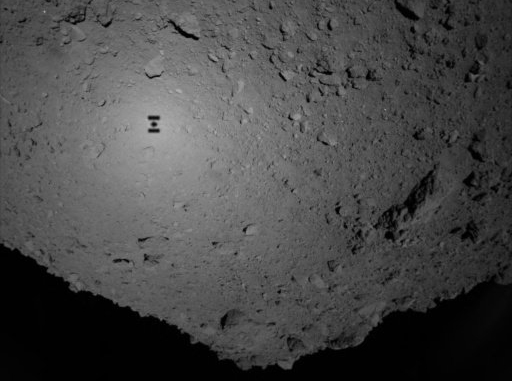 Above: Hayabasa2 photographs its own shadow on the asteroid. Credit: JAXA
Exploring Ryugu is important. Classified as a potentially hazardous asteroid, this 900-meter wide space rock can theoretically come closer to our planet than the Moon. This makes it a potential target for asteroid mining. Hayabasa2 will discover what valuable metals may be waiting there. Ryugu is also a very primitive body, possibly containing a chemical history of the formation of our solar system billions of years ago.
Launched in December 2014, Hayabusa2 reached asteroid Ryuga in June of this year. It is scheduled to orbit the asteroid for about a year and a half before returning to Earth in late 2020, carrying samples of Ryugu for analysis by researchers
via NASA Spaceweather.com