Shocker: Global Warming Kneejerker Admits It
You can go wading in the lake at the North Pole – Boing Boing
At Climate Central, Andrew Freedman provides some really fascinating context that illustrates the changing nature of, well, nature … and draws a big, heavy underline on how difficult it can be to make assumptions about what is and what isn't an effect of climate change. Arctic sea ice is melting in concert with rising global average temperatures, but (contrary to the knee-jerk assumption I made about this story) the lake at the North Pole may or may not have anything to do with that.
What? Global warming true believers making knee-jerk assumptions? Perish the thought.
Kudos for owning up, though.   http://www.dailypundit.com/?p=74441
================================================================
North Pole 'Lake' Vanishes – Yahoo! News
Now, instead of 2 feet (0.6 meters) of freshwater slopping against a bright-yellow buoy, a remote webcam shows only ice and clouds.
Told ya so: http://wattsupwiththat.com/2013/07/29/al-gores-reality-minions-think-the-north-pole-is-melting-except-thats-not-a-photo-of-the-north-pole/
================================================================
PJ Tatler:
National Geographic: You Know, James Hansen Just Might be a Bit of a Chicken Little
Don't look now, global warmists, but National Geographic just put some science to one of James Hansen's most outlandish claims.
In his book Storms of my Grandchildren, noted climate scientist James Hansen issued the following warning: "[I]f we burn all reserves of oil, gas, and coal, there is a substantial chance we will initiate the runaway greenhouse. If we also burn the tar sands and tar shale, I believe the Venus syndrome is a dead certainty."
Keep your eyes on the ball here. Hansen doesn't give us a number, but does say that Earth stands a "substantial chance" of going hot like Venus and burning off all our oceans if we were to burn up all of our reserves of oil, gas and goal.
What's a "substantial chance?" And does it matter that Venus is only 67 million miles from the Sun, while Earth is 93 million miles from the Sun?
You'd think it would. It does.
Respected as Hansen is, the argument hasn't convinced climate scientists who specialize in the evolution of planetary atmospheres. During the Paleocene-Eocene Thermal Maximum (PETM), 56 million years ago, a huge natural spike in CO2 sent temperatures on Earth soaring—but life went on and the ocean remained intact.

"I think you can say we're still safe against the Venus syndrome," says Raymond Pierrehumbert of the University of Chicago. "If we were going to run away, we'd probably have done it during the PETM."
Maybe Hansen shouldn't be so respected. I know from my years at NASA that among the staff who worked nearest him at the Goddard Space Flight Center and had to deal directly with him, he wasn't.
http://pjmedia.com/tatler/2013/07/30/national-geographic-you-know-james-hansen-just-might-be-a-bit-of-a-chicken-little/
=================================================================
Tamsin Edwards: Climate scientists must not advocate particular policies
I became a climate scientist because I care about the environment, but we have a moral obligation to be impartial .
As a climate scientist, I'm under pressure to be a political advocate. This comes mainly from environmentalists. Dan Cass, wind-farm director and solar advocate, preferred me not to waste my time debating "denialist morons" but to use political advocacy to "prevent climate catastrophe".
…
I believe advocacy by climate scientists has damaged trust in the science. We risk our credibility, our reputation for objectivity, if we are not absolutely neutral. At the very least, it leaves us open to criticism. I find much climate scepticism is driven by a belief that environmental activism has influenced how scientists gather and interpret evidence. So I've found my hardline approach successful in taking the politics and therefore – pun intended – the heat out of climate science discussions.
http://www.theguardian.com/science/political-science/2013/jul/31/climate-scientists-policies
================================================================
David Archibald will be giving a lecture on climate (predicting cooling) in a US Senate hearing room on Monday 16th September at noon. (Details to follow later.)
================================================================
The head of the IPCC has written a novel in which the central character is infatuated with pseudoscience and in which UFO enthusiast Shirley MacLean is presented as credible. The final installment of the Nobel Laureate Summer Reading series.
=================================================================
Disappearing islands h/t to Jeff Pitts:
"The loss of the islands is part of a natural process of delta barrier island evolution that may well be accelerated due to more frequent storms resulting from climate change," Lopez said. "The loss of the islands is a tragedy that can be averted."
http://www.weather.com/news/science/environment/louisianas-disappearing-islands-20130723
=================================================================
Mike Jonas advises: The Royal Society of NSW, Southern Highlands Branch, is presenting a climate science forum on Thursday Aug 8, in Bowral NSW Australia.
http://www.royalsocietyhighlands.org.au/lectures/lectures_2013.htm
If you know anyone who may be within range of Bowral and might like to attend, please can you let them know. Bowral is about 1½ hours from Sydney, Canberra and Wollongong.
Also, please note that we are asking for questions in advance (about the science of climate, not on things like cutting CO2 emissions). Contact details etc are in the above website.
================================================================
Source: http://www.youtube.com/watch?v=1gmW9GEUYvA&feature=youtu.be&hd=1
Dr. Soon, an astrophysicist, authored The Maunder Minimum and The Variable Sun-Earth Connection. Presented at the Doctors for Disaster Preparedness 31st Annual Meeting, July 13, 2013, Houston, Texas.
================================================================
Two new companion papers published in Ocean Science call into question the data and methods used to construct global sea surface temperature records of the past 150 years. The authors find that measurements taken from ship engine cooling intakes can be "overly-warm by greater than 0.5°C on some vessels," which by way of comparison is about the same magnitude as the alleged global sea surface temperature warming since 1870.
Furthermore, the authors "report the presence of strong near-surface temperature gradients day and night, indicating that intake and bucket measurements cannot be assumed equivalent in this region. We thus suggest bucket and buoy measurements be considered distinct from intake measurements due to differences in sampling depth. As such, we argue for exclusion of intake temperatures from historical SST datasets and suggest this would likely reduce the need for poorly field-tested bucket adjustments. We also call for improvement in the general quality of intake temperatures from Voluntary Observing Ships… We suggest that reliable correction for such warm errors is not possible since they are largely of unknown origin and can be offset by real near-surface temperature gradients."
Data sets combining ship intake and bucket measurements show ~0.5C warming since 1870, but this new paper argues that the two types of measurement are from different sampling depths and should not be combined. Graph source: Bob Tisdale via WUWT
For more on the ship intake vs. buckets issue and the questionable adjustments involved, see these posts at WUWT & links to Climate Audit:
Historical Sea Surface Temperature Adjustments/Corrections aka "The Bucket Model"…
Buckets, Inlets, SST's and all that – part 1
================================================================
Is Shrinking Arctic Ice a Bad Thing?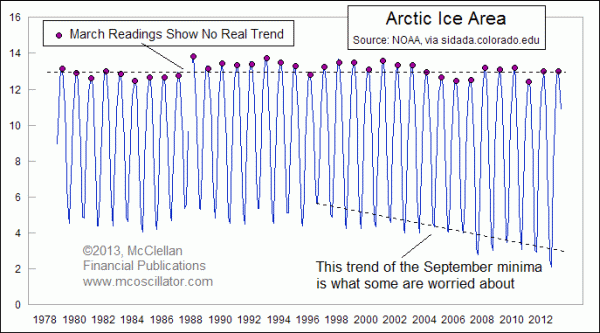 There has been considerable alarm in recent years about the shrinking arctic ice cap.  Some shippers look forward to actually using the "northwest passage" for shipping to cut off a few thousand miles versus going through the Panama Canal or around Africa, while others fear the rising sea levels associated with glacial melting.  Polar bears who hunt for seals on polar ice have become the poster representatives of those who worry about ice caps melting.
http://www.mcoscillator.com/learning_center/weekly_chart/is_shrinking_arctic_ice_a_bad_thing/
==============================================================
Matt Dempsey writes:
Watch: State Department on President Obama's Keystone XL Jobs Claims: "Sounds like there's some confusion on this issue"
Imagine you are the spokesperson at the State Department live on TV having to answer questions from a number of reporters trying to find out how President Obama came up with the Keystone XL job numbers he cited in his New York Times interview this weekend.
They certainly didn't come from the State Department Draft Environmental Impact Statement (EIS).
On Monday, Oil Sands Fact Check sent out an Issue Alert questioning whether President Obama had even read the State Department's report on Keystone XL. If he had, why didn't he use the numbers that professionals in his own administration had researched for nearly five years? And if he's not relying on the experts at State, where exactly did he get his numbers from?
These are the questions reporters have been asking this week but have yet to get an answer out of the White House.  "[T]he White House could not say late Saturday what analysis Obama is basing his 2,000 jobs estimate on…" reports the Washington Post. The Hill, too, contacted the White House but they "didn't respond."
The Washington Post Fact Checker summed up the White House's mystery job numbers this way:
"Ordinarily, we would expect the president to cite an estimate from his own State Department, rather than a think tank opposed to the project. (Note to President Obama: When researching such matters, reporters generally look askance at estimates produced by advocates or foes of a particular issue.)  Of course, perhaps the president just took State Department estimate of the construction jobs and divided it in half, to come up with an (incorrect) yearly figure. But that doesn't make much sense either, because the White House routinely claimed the job gains created by the stimulus by adding up the number of "person-years" — in other words, one person employed per year. That's how the White House could claim 3 million jobs were saved or created by the stimulus through 2012. (See Table 12 of this White House report.) Thus, using the White House's stimulus math, the president should be saying Keystone XL would create as many as 7,800 construction jobs."
The Tampa Bay Times Politifact did some homework too and found that even the Sierra Club had higher job numbers than President Obama on Keystone XL: "We looked at the website of the Sierra Club, one of the leading environmental groups opposed to the pipeline, and they used the State Department's 3,900 annual number." As Politifact put it, President Obama's job numbers are simply "false":
Our ruling
Obama said the Keystone XL pipeline might produce about 2,000 jobs during construction, based on the most reliable estimates. The White House provided no supporting evidence and the administration's own State Department predicted that while the pipeline would produce few permanent jobs, the construction process itself would create nearly twice as many jobs as the president said.
We rate the statement False.
Perhaps today's Grand Forks Herald editorial put it best: "This is pretty close to ludicrous."
Which brings us back to the poor State Department spokesperson, who was left trying to explain this whole situation on live TV.  She certainly gave it her best shot before finally saying, "Well, sure. It sounds like there's some confusion on this issue, so why don't I take the question…"
Full Transcript
http://www.state.gov/r/pa/prs/dpb/2013/07/212560.htm