Global Sea Ice Reference Page: Arctic and Antarctic current graphs and imagery
Important notice – 2017 June 18 – this page received a massive overhaul today. Most of its problems with images have been resolved. The issue with displaying images from non-SSL servers (URL starts with http: instead of https:) was resolved by a daily copy of the images to a site with a SSL certificate. Pretty much all references to Cryosphere have been deleted, as Cryosphere is pretty much completely broken and has been since April 2016. Some of its images have been resolved using similar images from other sources. Finally, site www7320.nrlssc.navy.mil is now accessible only with a https URl, but their SSL certificate is a bit dodgy. If you see errors, it seems okay to set up an exception for it.
The links on this page still need to be reviewed and cleaned up.
Shortlink for this page: http://wp.me/P7y4l-5Kc (suitable for blog or Twitter comments)
All images are displayed from either their source or, if the file names include timestamps, are automatically created copies updated soon after appearing at their source.
---
Global Sea Ice:
Global, Arctic, & Antarctic Sea Ice Area
Global Sea Ice Cover
Arctic Graphs:
Arctic Sea Ice Extent – 15% or greater:
JAXA Arctic Sea Ice Extent – 15% or Greater:
JAXA data download (CSV file of extent) here
Arctic Sea ice extent 15% coverage or greater  (DMI)
Arctic Sea Ice Extent 15% or Greater (NANSEN):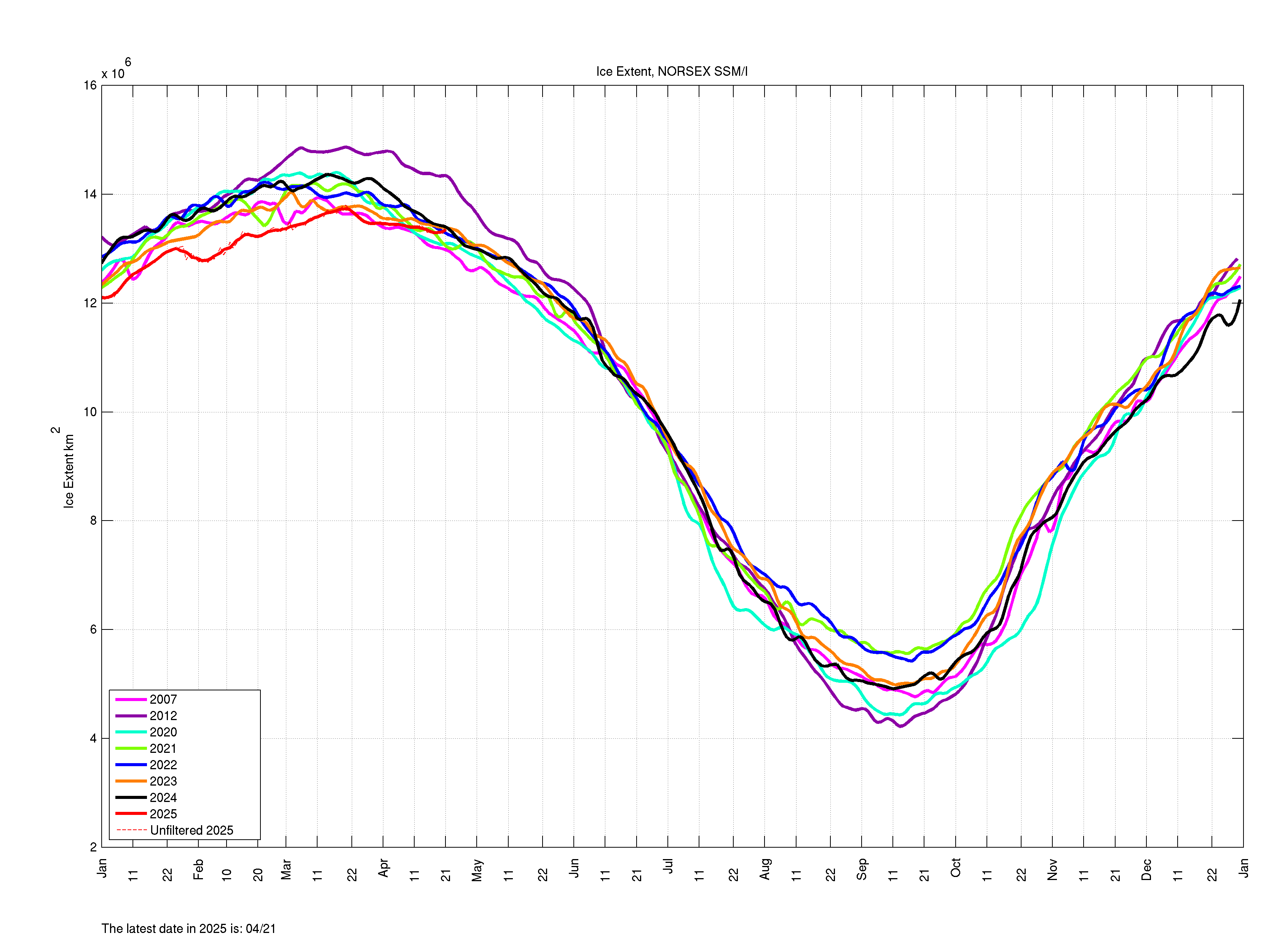 Nansen data (CSV file with both extent and area) download here
Arctic Sea Ice Area: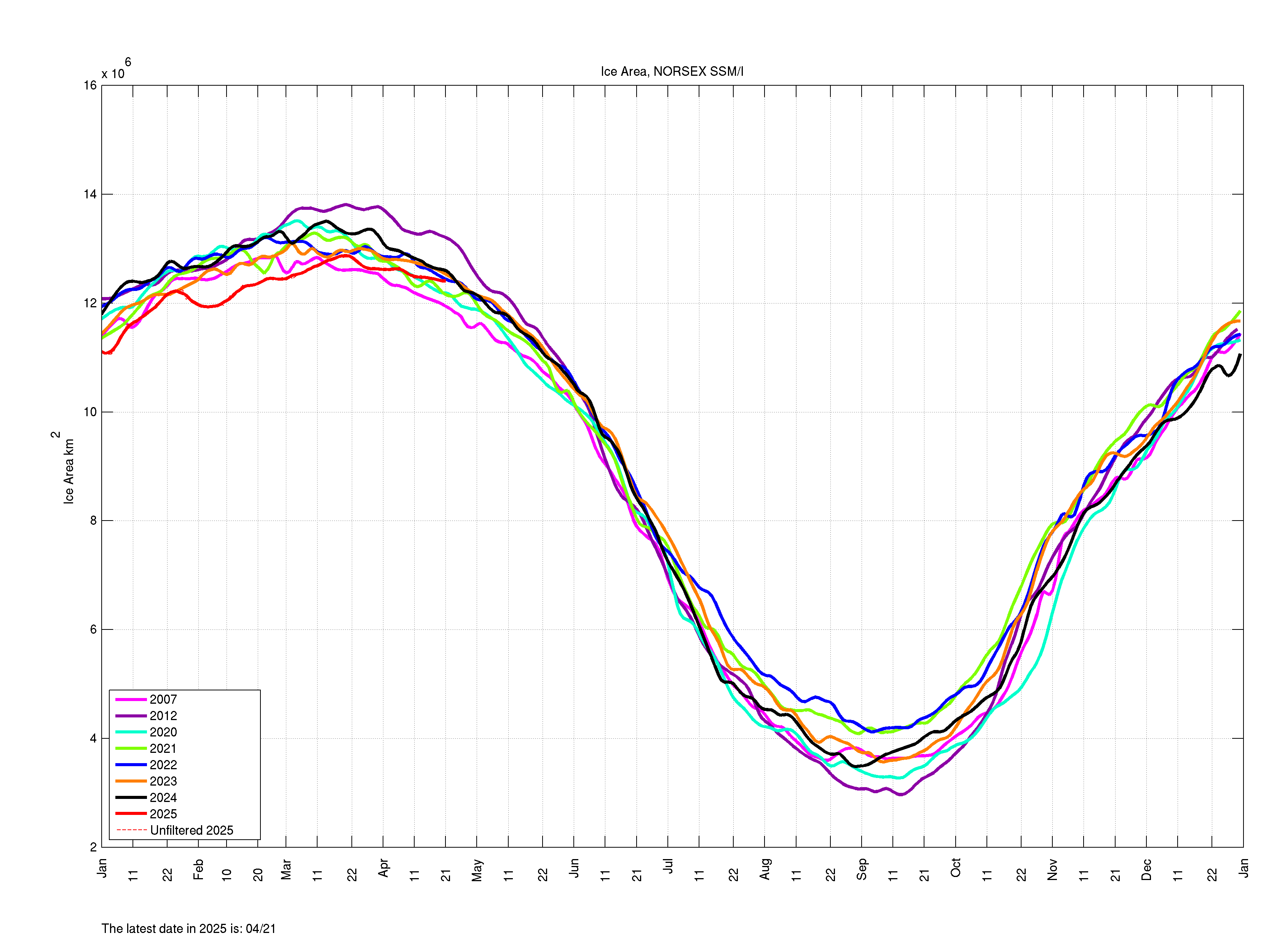 Nansen data (CSV file with both extent and area) download here
Sea Ice Extent – Change in Maximum, Mean and Minimum
Arctic Sea Ice Forecast from NOAA: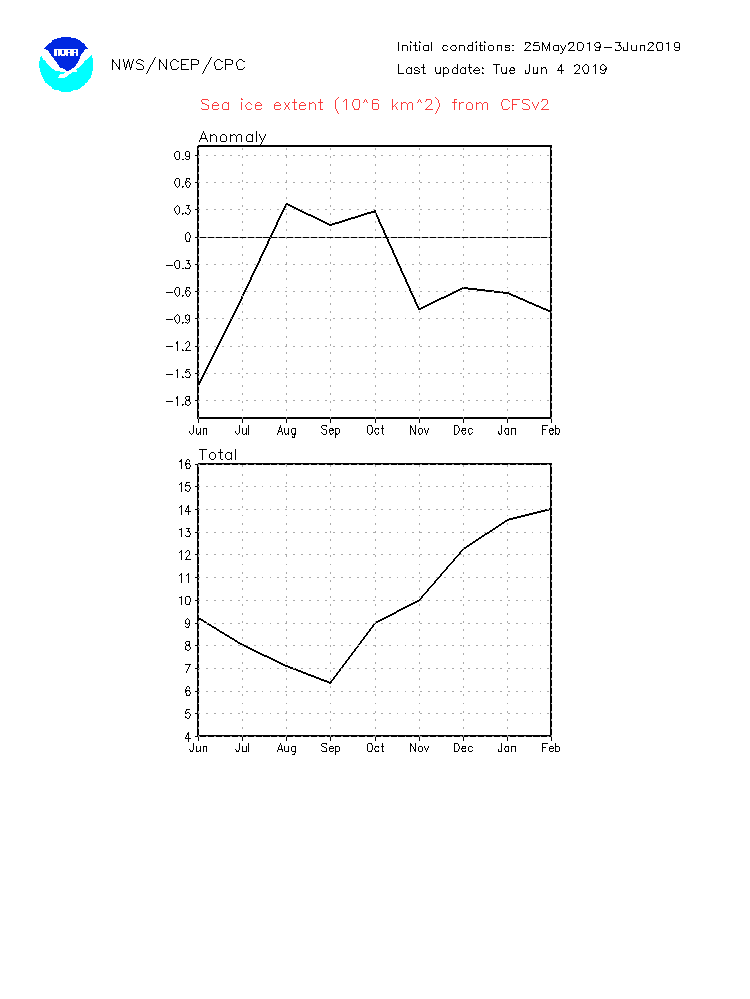 Northern Regional Sea Ice Charts
Map of the Arctic – Thanks to REP
Graphs of Ice Coverage by Basin
Arctic Basin: Cryosphere Today
Central Arctic: NSIDC
Baffin Bay/Gulf of St. Lawrence: NSIDC – Cryosphere Today
Baffin/Newfoundland Bay: Cryosphere Today
Baltic Sea: NSIDC
Barents Sea: NSIDC – Cryosphere Today – Arctic ROOS
Beaufort Sea: NSIDC – Cryosphere Today
Bering Sea: NSIDC – Cryosphere Today
Canadian Archipelago: NSIDC – Cryosphere Today
Chukchi Sea: NSIDC – Cryosphere Today
Cook Inlet: NSIDC
Gulf of St. Lawrence: Cryosphere Today
East Siberian Sea: NSIDC – Cryosphere Today
Greenland Sea: NSIDC – Cryosphere Today – Arctic ROOS
Hudson Bay: NSIDC – Cryosphere Today
Kara Sea: NSIDC – Cryosphere Today – Arctic ROOS
Laptev Sea: NSIDC – Cryosphere Today
Sea of Okhotsk: NSIDC – Cryosphere Today
Yellow Sea: NSIDC
Sources:
National Snow and Ice Data Center (NSIDC)
Cryosphere Today
Nansen Arctic ROOS
Arctic Temperature:
Mean Temperature above 80°N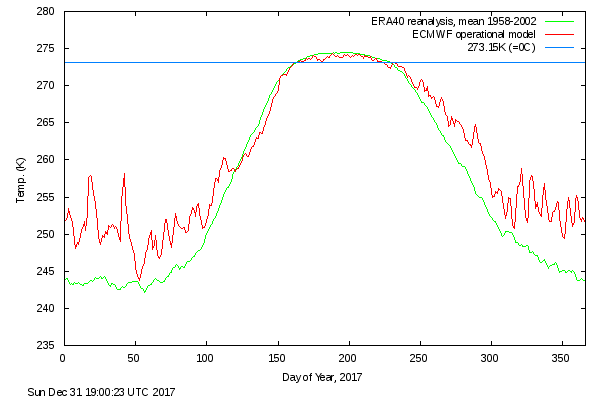 Source and historical files: http://ocean.dmi.dk/arctic/meant80n.uk.php
RSS Northern Polar Temperature Lower Troposphere (TLT) – 1979 to 2016
Northern Hemisphere Sea Surface Temperature Anomaly
Northern Hemisphere Sea Surface Temperature
Northern Hemisphere Sea Surface Temperature
[N.B. This image is stale, it will be repaired/discarded.]
Northern Hemisphere Surface Temperatures
Arctic Sea Surface Temperature
NRL – Arctic Sea Surface Temperature – 30 Day Animation
NRL – Arctic Sea Surface Temperature – 365 Day Animation
Moyhu – Arctic Sea Surface Temperature – 50 Day Animation
Moyhu – Arctic Sea Surface Temperature – 365 Day Animation
---
Sea Ice Concentration:
Arctic Sea Ice Concentration
Arctic Sea Ice Concentration – 30 Day Animation
Arctic Sea Ice Concentration – 365 Day Animation
Canadian Sea Ice Concentration
Arctic Sea Ice Extent With Anomaly
Arctic Sea Ice Thickness
Real-Time Nowcast/Forecast in Meters
Arctic Sea Ice Thickness – 30 Day Animation
Arctic Sea Ice Thickness – 365 Day Animation
Arctic Sea Ice Speed & Drift
Arctic Sea Ice Speed & Drift – 30 Day Animation
Arctic Sea Ice Speed & Drift – 365 Day Animation
Ice Drift in the Arctic Ocean: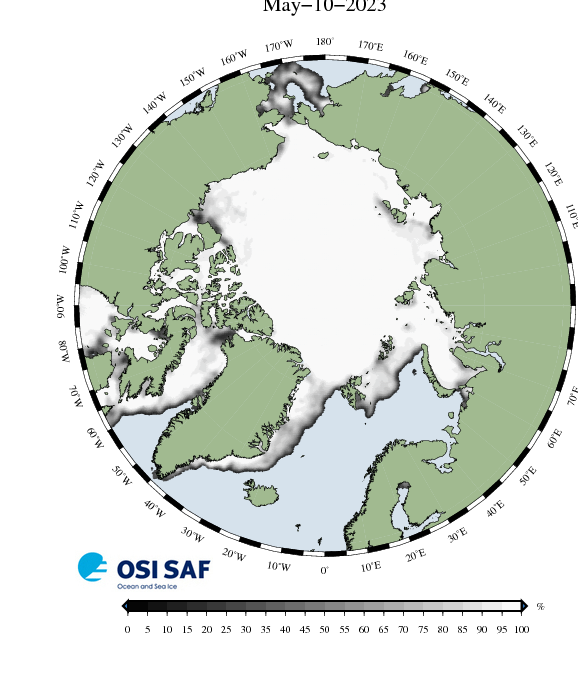 Arctic Sea Ice Volume Model from the University of Washington (Note: this is only updated monthly, and is a model output, not a real-time observation, details here )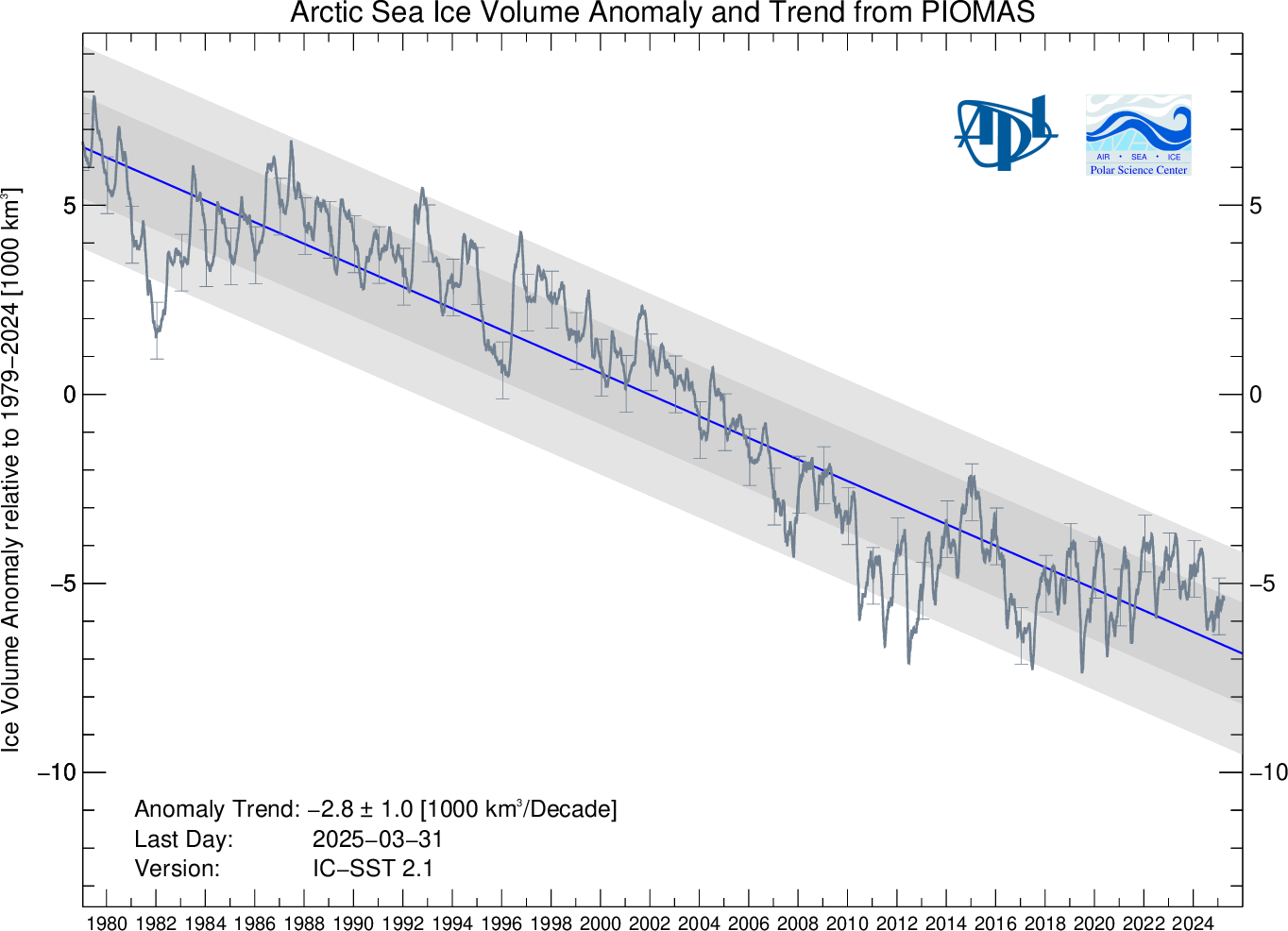 Source: [ http://psc.apl.washington.edu/wordpress/wp-content/uploads/schweiger/ice_volume/BPIOMASIceVolumeAnomalyCurrentV2.1.png ]
Drifting "North Pole" Camera (project ended in 2015)
Source and image Archive: http://psc.apl.washington.edu/northpole/
Arctic Satellite Imagery:
True Color Arctic Satellite Image – With Google Maps Zoom – arctic.io – Infrared and Global imagery is available from the Arctic and Global dropdowns on the map linked above.
Terra 4km True Color Arctic Satellite Image – Mosaic Image – With Zoom – NASA
Terra 4km Bands 3-6-7 Arctic Satellite Image< – Arctic Satellite Mosaic Image – With Zoom – NASA
Aqua 4km True Color Arctic Satellite Image – Mosaic Image – With Zoom – NASA
=============================================================
Antarctic Graphs:
Antarctic Sea Ice Extent – 15% or Greater
Southern Hemisphere Sea Ice Area
JAXA Antarctic Sea Ice Extent – 15% or Greater:
JAXA data download (CSV file of Antarctic extent) here
Antarctic Temperature:
RSS Southern Polar Temperature Lower Troposphere (TLT) – 1979 to 2016
Antarctic Sea Surface Temperature
NRL Antarctic Sea Surface Temperature – 30 Day Animation
NRL Antarctic Sea Surface Temperature – 365 Day Animation
Moyhu Antarctic Sea Surface Temperature – 50 Day Animation
Moyhu Antarctic Sea Surface Temperature – 365 Day Animation
Antarctic Sea Ice Imagery:
Southern Hemisphere Sea Ice Extent With Anomaly
South Pole Station Webcam (offline in SH winter)
Antarctic Satellite Imagery:
Terra 4km True Color Antarctic Satellite Image – Mosaic Image – With Zoom – NASA
Terra 4km Bands 3-6-7 Antarctic Satellite Image – Antarctic Satellite Mosaic Image – With Zoom – NASA
Aqua 4km True Color Antarctic Satellite Image – Mosaic Image – With Zoom – NASA
---
Source Guide:
Danish Meteorological Institute (DMI) – Centre for Ocean and Ice
Home Page – http://ocean.dmi.dk/english/index.php
Arctic Page – http://ocean.dmi.dk/arctic/index.uk.php
arctic.io
Home Page – http://www.arctic.io/
Satellite Observations Page – http://www.arctic.io/observations/
climate4you.com – Ole Humlum – Professor, University of Oslo Department of Geosciences:
Home Page – http://climate4you.com/
Ole Humlum Bibliography – http://climate4you.com/Text/BIBLIOGRAPHY%20OLE%20HUMLUM.pdf
Cryosphere Today – Arctic Climate Research at the University of Illinois:
[N.B. Cryosphere has lost its data source, but is still generating images with current dates. Their historical data may be okay.]
Home Page – http://arctic.atmos.uiuc.edu/
Products Page – http://arctic.atmos.uiuc.edu/cryosphere/
Images Indexed By Date – http://arctic.atmos.uiuc.edu/cryosphere/IMAGES/
Northern Hemisphere Sea Ice Area – http://arctic.atmos.uiuc.edu/cryosphere/timeseries.anom.1979-2008
Southern Hemisphere Sea Ice Area – http://arctic.atmos.uiuc.edu/cryosphere/timeseries.south.anom.1979-2008
moyhu – Nike Stokes
Home Page – http://www.moyhu.blogspot.com.au/
Regional Hi-Res SST Movies – http://www.moyhu.blogspot.com.au/p/sst-regional-movies-as-described-here-i.html
Collection of High Resolution NOAA SST Images with WebGL – http://www.moyhu.blogspot.com.au/p/blog-page.html
Naval Research Laboratory (NRL) – HYCOM Consortium for Data-Assimilative Ocean Modeling
NRL Home Page – http://www.nrlmry.navy.mil/
NRL Products Page – http://www.nrlmry.navy.mil/proddemo.htm
HYCOM Home Page – https://www7320.nrlssc.navy.mil/hycomARC/
Satellite Products Page- http://www.nrlmry.navy.mil/sat_products.html
Data Page – http://www.nrlmry.navy.mil/archdat/
Multi-view – http://www.nrlmry.navy.mil/sat-bin/global.cgi
Naval Coastal Ocean Model – https://www7320.nrlssc.navy.mil/global_ncom/
FTP Page – https://www7320.nrlssc.navy.mil/global_ncom/Links/
FTP Page Global – https://www7320.nrlssc.navy.mil/global_ncom/Links/glb/
National Snow and Ice Data Center (NSIDC):
Home Page – http://nsidc.org/
FTP Page – http://nsidc.org/data/seaice_index/images/
Regional FTP Page – ftp://sidads.colorado.edu/DATASETS/NOAA/G02186/plots/
Data Search Page – http://nsidc.org/searchlight/
Northern Hemisphere Sea Ice Extent – ftp://sidads.colorado.edu/DATASETS/NOAA/G02135/north/daily/data/
Southern Hemisphere Sea Ice Extent – ftp://sidads.colorado.edu/DATASETS/NOAA/G02135/south/daily/data/
University of Bremen:
Home Page – http://www.iup.uni-bremen.de/eng/
Sea Ice Page – http://iup.physik.uni-bremen.de:8084/ssmis/
International Arctic Research Center/Japan Aerospace Exploration Agency (IARC-JAXA)
Home Page – http://www.ijis.iarc.uaf.edu/en/
FTP Page – http://www.ijis.iarc.uaf.edu/en/home/
National Aeronautics and Space Administration (NASA) Goddard Space Flight Center (GSFC) – Lance Modis
Home Page – http://rapidfire.sci.gsfc.nasa.gov/imagery/
Rapid Response Satellite Page – http://earthdata.nasa.gov/data/near-real-time-data/rapid-response
National Oceanic & Atmospheric Administration (NOAA) – National Climate Data Center
Home Page – http://lwf.ncdc.noaa.gov/oa/ncdc.html
Public FTP Page – http://www1.ncdc.noaa.gov/pub/data/cmb/
National Oceanic & Atmospheric Administration (NOAA) – National Weather Service – Environmental Modeling Center
Home Page – http://polar.ncep.noaa.gov/
Sea Ice Analyses Page – http://polar.ncep.noaa.gov/seaice/Analyses.html
Public FTP Page – ftp://polar.ncep.noaa.gov/pub/
Sea Ice FTP Page – ftp://polar.ncep.noaa.gov/pub/ice/
Regional Arctic Sea Ice FTP Page – ftp://sidads.colorado.edu/DATASETS/NOAA/G02186/plots/
National Oceanic and Atmospheric Administration (NOAA) – National Ice Center:
Home Page http://www.natice.noaa.gov/mission.html?bandwidth=high
National Oceanic & Atmospheric Administration (NOAA) – National Weather Service NOAA Arctic Cam Page:
http://www.arctic.noaa.gov/gallery_np.html
National Oceanic and Atmospheric Administration (NOAA) – Earth System Research Laboratory (ESRL)
Home Page – http://www.esrl.noaa.gov/
Physical Sciences Division (PSD) Products Page – http://www.esrl.noaa.gov/psd/products/
Physical Sciences Division (PSD) Data Data Page – http://www.esrl.noaa.gov/psd/data/
Physical Sciences Division (PSD) Data Maps Page – http://www.esrl.noaa.gov/psd/map/
Nansen Environmental and Remote Sensing Center (NERSC) – Arctic Regional Ocean Observing System (ROOS):
Home Page – http://arctic-roos.org/
Sea Ice Charts – http://arctic-roos.org/observations/satellite-data/sea-ice/ice-area-and-extent-in-arctic
Norway Meteorological SAF Sea Ice:
http://saf.met.no/p/ice/index.html
Washington University North Pole Environmental Observatory:
http://psc.apl.washington.edu/northpole/