Guest Post by David Middleton
The National Resources Defense Council (NRDC) is out with their latest "Toxic Twenty" list…
The NRDC's report is standard green claptrap. Kentucky led the Toxic Twenty, "emitting nearly 40.6 million pounds of harmful chemicals" in 2010.
That's like 20,000 tons in just one year! I guess we better shutter Kentucky's 72 GWh of electricity generation.
The first thing that crossed my mind was the fact that the "Toxic Twenty" looked a lot like a list of the nation's top electricity generating States… 
In typical "green fashion" the NRDC casually dismisses this fact, noting that "in 2010, these same states accounted for just 62% of electricity generation." It boggles the mind. 40% of the States generated more than 60% of the electricity.
Here's a comparison of April 2010 electricity generation for the "Green Thirty" vs. the "Toxic Twenty"…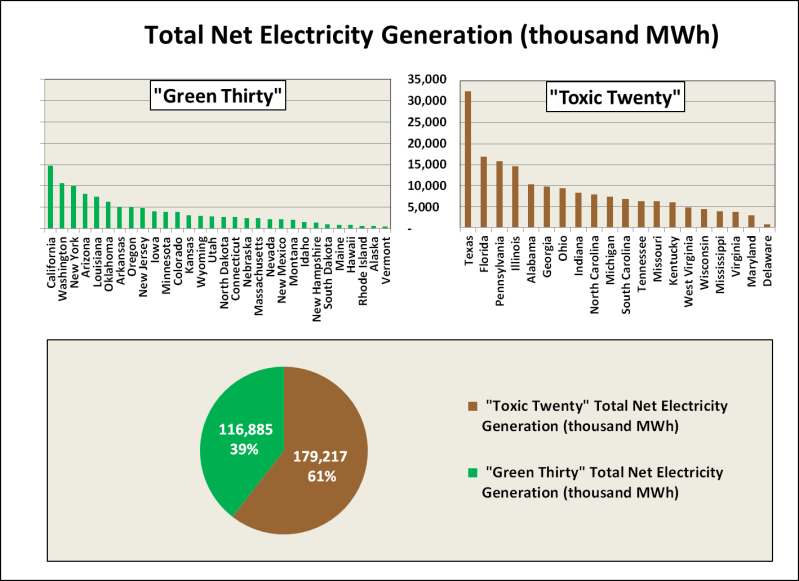 If you back out hydroelectric generation, the ratio grows to 68% to 32%. Since the NRDC are probably not fond of dams, I doubt they'd really count that as green electricity.
Here in Texas, we have a saying for groups like the NRDC: "Y'all can freeze in the dark for all we care."