Readers may recall that we caught NOAA NCDC red handed putting in a photoshopped flooded house a couple of years back for an official government report.
Image above taken directly from the CCSP report. Read more here
Then there's the famous polar bear on the ice floe image ursus bogus.
And let's not forget Al Gore's hurricanes for his book cover:
So when Tom Nelson asked today "Who's got time to investigate BlackSmokeGate?" I decided to take on the task. Here's the photo in question:
Tom was rightfully concerned that white steam rather than smoke comes out of these plants, as shown in this photo.
This station has been identified in the comment section of the article using it as Eggborough power station. Check out the white cloud coming from the power station in this Wikipedia photo.
I decided to run a simple but well known tool to detect if Photoshop had been used. Bingo!
Output from http://www.pskiller.com/
Basically all that was done was to highlight a part of the steam with the point to point select tool, feather it and adjust the contrast to make it look darker.
[UPDATE: I found a different version of the image on the web at Sky News here and ran it through PSKiller's detector. It's even more damning:
PS Quantization tables are a dead giveaway. ]
I'll bet somebody could find this image original in some stock photo library. It is from John Giles PA Wire. It gets a lot of play according to Nelson. For example here it is used in conjunction with Climategate2:
Nelson asks:
If you have time to compile a list of the mainstream media uses of this photo, please let me know. If you've taken some action to protest this propaganda (maybe a letter to an editor?) please also let me know.

By the way, has this photo been altered in any way? [YES – Anthony]

Update: A TinEye search for the top image yields 92 results.

A TinEye search for the bottom image yields 94 results.
To illustrate how easy this is to make black smoke from steam, I located an image of a smoke stack online of the Zimmer Power Plant Smoke Stack in Moscow, Ohio, here
Then I applied the simple technique I described.
highlight a part of the steam with the point to point select tool
feather it
adjust the brightness and contrast to make it look darker.
Granted it was a rush job and I didn't go all the way to the right in the plume, but this took all of 45 seconds:
See how easy that is to make black smoke where there was only steam before?
UPDATE2: Here's another example of Photoshop at work. The greens must really hate this power station in Britain. "Black" smoke from cooling towers? Really? Everyone knows they produce water vapor, and even the sun angle doesn't look right in this one from the Guardian.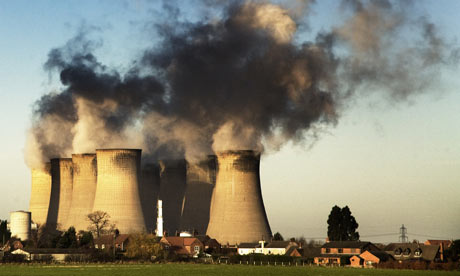 It doesn't survive the test either:
And yet if you do an image search for this power station, you'll find nothing like this image anywhere else except on the Guardian Website.
UPDATE: Autonomous Mind looks into the photo above, conversing with the photographer is interesting more for what he doesn't say. Well worth a read here:
– Anthony