By Steve Goddard
I like to watch the sea ice graphs as much as anyone, and have wondered how much value they have in forecasting the summer minimum. So I researched it a bit and discovered that their predictive power this early in the melt season is very poor. The DMI graph below highlights the problem:
http://ocean.dmi.dk/arctic/icecover.uk.php
Note that 2006 had the highest summer minimum, yet was lowest most of the winter and through part of the spring. The graph below shows the  rsquared correlation between relative monthly ranking and September ranking, and indicates poor correlation prior to August 1.
Conclusion: Prior to August 1, the graphs tell us just about nothing about how the summer minimum is likely to turn out. The fact that April, 2010 had the highest extent in the DMI record tells us little or nothing about the summer minimum. There are too many dependencies on ice thickness and summer weather to make a meaningful prediction based solely on the extent graphs. NSIDC has used other methods of prediction, and done poorly – such as this forecast of a record low made in May, 2008.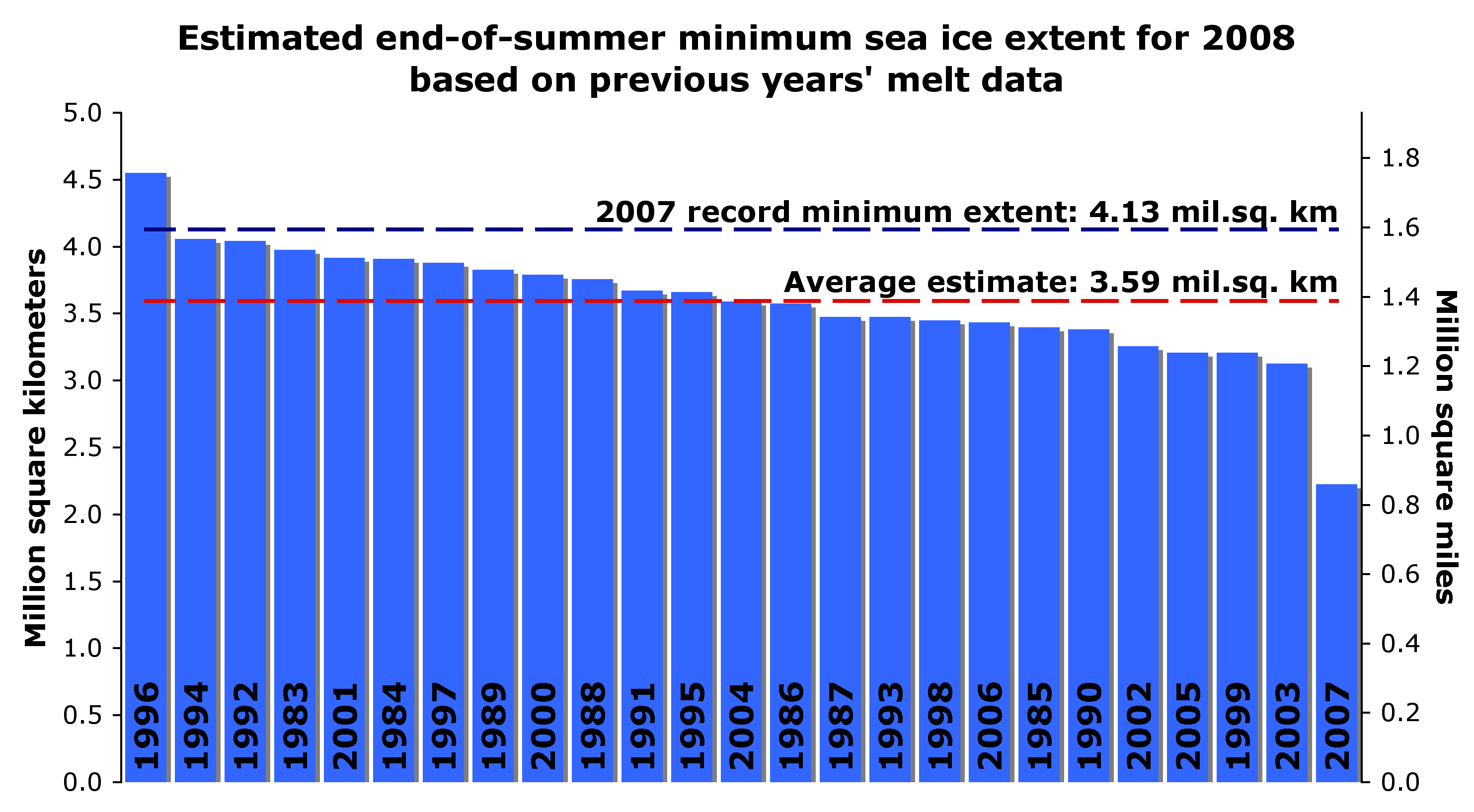 http://nsidc.org/images/arcticseaicenews/200805_Figure4.png
The Barrow Ice Observatory has studied the relationships between cloud cover and ice breakup date, and found some correlation, seen below.  They believe breakup occurs after the ice has received 700 MJ/m² of solar energy. A sunny summer means an earlier breakup date. A cloudy summer means the ice will break up later. The three earliest breakup years occurred in 2002, 2003, and 2004. The last two years were among the latest.
It is also interesting to note how dirty the snow and ice is around Barrow. No doubt this is a contributing factor.
http://seaice.alaska.edu/gi/observatories/barrow_webcam